Hello everyone! It's been a crazy busy weekend for me. On Friday I flew to New York for my best friend's bridal shower. It was a wonderful day, full of celebration and love. I'm so grateful I was able to be a part of it. I'm flying back to North Carolina tonight, trying to beat out a possible snow storm. Hopefully everything runs smoothly, and I can get back as planned. (UPDATE: My flight was cancelled so I get to spend another night at home, YAY!) That being said, I am happy to share with you my favorite dashi broth recipe.
Dashi is a broth that is a key ingredient in many Japanese dishes, bursting with umami flavor. The first broth I ever made from scratch was dashi. I've recently been experimenting with homemade broth including chicken, turkey, and vegetable (see my veggie broth recipe here). All of these aforementioned broths require multiple ingredients and are slightly time consuming (but delicious). However, dashi can be made quickly and only requires three ingredients- katsuobushi/bonito (flakes of dried tuna), kombu (dried kelp), and water. Often, I will add dried shiitake mushrooms, simply because I love their flavor. I usually add shiitake when I know I will be adding the broth to a recipe that also contains shiitake mushrooms.
The dashi recipe I follow comes from Japanese Women Don't Get Old or Fat by Naomi Moriyama and William Doyle. Naomi's method makes two batches of dashi at once- First Dashi and Second Dashi. I like using this method because it makes a larger quantity of fail-proof dashi that can be used for a multitude of recipes. Most of the time I freeze the dashi, so I have it available to use as needed. Use dashi within a couple days if stored in the refrigerator.
Where Can I Buy Dashi Ingredients?
You can purchased Bonito flakes, kombu and dried shiitake mushrooms at Asian grocery stores, or order online. When I lived in upstate New York I did not have access to a specialized store so I purchased ingredients through Amazon. I now live 5 minutes away from an Asian grocery store! I want to mention there are instant dashi packets. All you have to do is drop the small bag (resembling a tea bag) into a pot of water and BOOM, instant dashi. I have used instant dashi that was purchased in Japan (and it was amazing), however I have not purchased any online so I do not have any recommendations. Homemade dashi is the healthier options as instant dashi often contains MSG. I know making your own broth can be intimidating, but believe me, it is worth a try. Homemade broth tastes incredible and making it will give you a feeling of accomplishment.
Naomi Moriyama's dashi recipe has been a quick, delightful, fail-proof recipe for me. I hope it treats you the same. I highly recommended reading her book (buy it here), as it has been an inspiration for my blog. This book is jam-packed with recipes and tips for smarter eating. Let me know in the comments how you decide to make dashi & stay tuned for more recipes using dashi. Happy cooking!
Note* Naomi suggests that first dashi be used for clear soups and simmered dishes due to the intensity of flavors, and second dashi be used for dishes that have other ingredient with bold flavors.
Print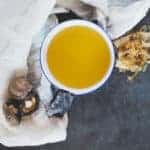 Dashi
Author:

Emily Toshiko

Prep Time:

0 hours

Cook Time:

0 hours

Total Time:

0 hours

Yield:

8 cups

1

x

Category:

Soup
---
Description
Dashi is a unique broth made from bonito flakes and kombu. It is a key ingredient in Japanese cooking.
---
9 cups

cold water

2

-

4

cups of bonito flakes (add more bonito to strengthen flavor)

1

4-inch by 4-inch piece of dried kombu

3

dried shiitake mushrooms (optional-see note)
---
Instructions
Place dried kombu and dried shiitake mushrooms (optional) in a saucepan with cold water and turn to high heat. Immediately before the water comes to a boil, remove the kombu and set it aside for second dashi.
Stir in the bonito flakes and bring the water to a boil. As soon as the water boils turn the heat off and let it sit for 2 minutes.
Strain broth through a fine mesh strainer (or cheesecloth for extra clarity) and set aside to cool. Save the bonito and shiitake for second dashi.
Second Dashi:
While first dashi is cooling, add the used kombu, bonito, shiitake (if using) and 4 ½ cups of water to the saucepan.
Bring the water to a boil then drop the heat to low and let it simmer for 10 minutes.
Strain the broth again and discard the kombu and bonito. Save shiitake in refrigerator for other meals. Ta-Da! That's all there is to it.
---
Notes
Dried kombu is difficult to measure because it is rolled up. I generally use my pointer finger to roughly measure a piece.
I often add dried shiitake mushrooms to my both because I love their extra pop of flavor. I usually use shiitake when I know the dashi will be used in a dish with shiitake mushrooms as an ingredient