It has been a cold(ish) and rainy weekend here in North Carolina (I live in North Carolina so I can't really complain about the weather). My perfect cure for the rainy blues… cuddle up on the couch with a fuzzy blanket and eat/drink something hot. I'm planning on making Chrissy Teigen's Veggie Couscous recipe later in the week, and the recipe calls for vegetable broth. Hmm… Seems simple enough to grab a box or can in the store and go. However, it's ridiculously easy and cheap to make your own vegetable broth! I share with you today my homemade vegetable scrap broth. You really can't go wrong. Although the recipe appears to be time consuming, it really isn't. The prep work is minimal, and you can pretty much throw it together and leave it on the stove for an hour. During this time, I like to work on my blog, clean the apartment, or read.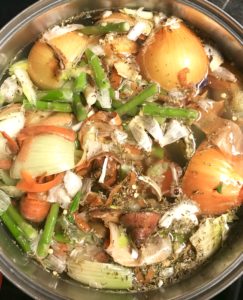 I grew up composting in my back yard, however I currently live in a big apartment complex so finding a way to compost is difficult. My version of apartment composting includes saving all of my veggie scraps in a gallon freezer bag. I save the ends & peels of carrots, ends of celery, potato peels, ends and skins of onions, squishy garlic that's almost bad but not quite there, herbs that are no longer fresh but not yet slimy… literally EVERYTHING. I like to label the date on the bags so I can keep track of which bag I started first (because let me tell you it does not take very long to fill up a bag in this household). There are so many ways to repurpose old food. I think this is my favorite way because it is so simple!
Let me know in the comments what your most collected veggie scraps are. Mine are carrots, onions and asparagus ends. Subscribe to my blog to receive updates, recipes & more! Thank you for reading, and please enjoy this recipe, from my table to yours.
NOTE*
Look over your scraps before using them to see what elements are missing. The most important vegetables to include to make your broth flavorful are onions, garlic, celery and carrots. I generally have a lot of carrot and onion scraps. If you feel like you need to add any more of these elements, please do! Each veggie scrap bag will be unique and bring about different flavors.
Print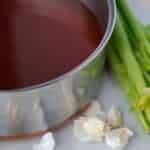 Homemade Vegetable Scrap Broth
Author:

Emily Toshiko

Prep Time:

5 minutes

Cook Time:

1 hour 30 minutes

Total Time:

1 hour 35 minutes

Category:

Soup
---
Description
Save your vegetable scraps to make this simple yet flavorful broth. There are so many ways to repurpose food. I think this is my favorite method because it is easy and delicious!
---
1 gallon

freezer bag filled with vegetable scraps

3

celery stalks

1

onion, quartered

12 cups

of water (or enough to cover the veggies)

1 teaspoon

salt

1 teaspoon

oregano

1 teaspoon

thyme

20

grinds of fresh black pepper
---
Instructions
Add all ingredients to a stock pot.
Bring broth to a boil.
Reduce the heat, cover and simmer for 1 hour.
Remove from heat, and let stand for 10 minutes.
Strain the broth using a cheesecloth, or fine mesh strainer.
Store veggie broth in airtight containers.
Label each container with the amount of broth (I tend to forget if I don't label).
Use immediately or store in the freezer. Enjoy!
---
Keywords: vegetable scrap broth