Tuna salad reminds me of summer days and eating lunch in my parent's sunny breakfast nook. I was very particular about my tuna salad and my mom always made it just right. This recipe is lighter than most, only containing a small amount of mayo. Mayonnaise is a condiment that I have always slightly despised. There's just something weird about it to me. I'm fine with aioli, or if there is small amount mixed into something, but just straight up mayo makes me want to gag. This recipe has fresh ingredients that add a nice pop of flavor compared to the usual mayo packed tuna salad. My favorite way to eat this is as an open-faced tuna-melt! The tuna salad is also great on a bed of greens for a healthier, bread-free option.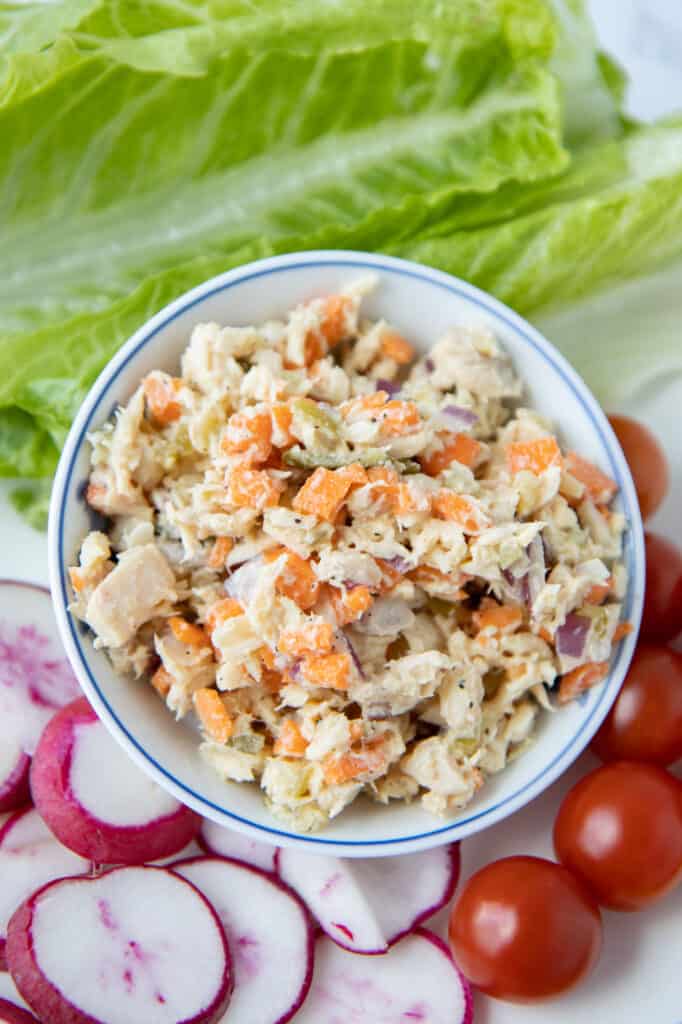 Wait, I thought you were vegan?
At this point I've posted a majority of plant-forward recipes. I tend to cook plant-based meals, but I do not label myself as vegetarian or vegan.  I simple enjoy eating "healthier" foods that are typically focused on plants. That being said, I occasionally eat lighter meat such as fish. I try to stay away from red meat and pork. I also don't enjoy cooking meat. Sometimes I cook fish but that is typically the only meat that enters my apartment. 
I've had a hard time deciding what kind of recipes I wanted to feature on my blog, but ultimately, I've decided I want to be true to myself. I like sharing recipes that I love making and eating.  The majority of these recipes will continue to be "plant-forward," but occasionally you will see others such as this recipe or this one that may contain animal-products. I think it is important to be aware of what and how much of something we are consuming, which is why I try to eat more vegetarian and vegan recipes. I would like to use my platform to encourage people to transition to eating healthier with a focus on plants.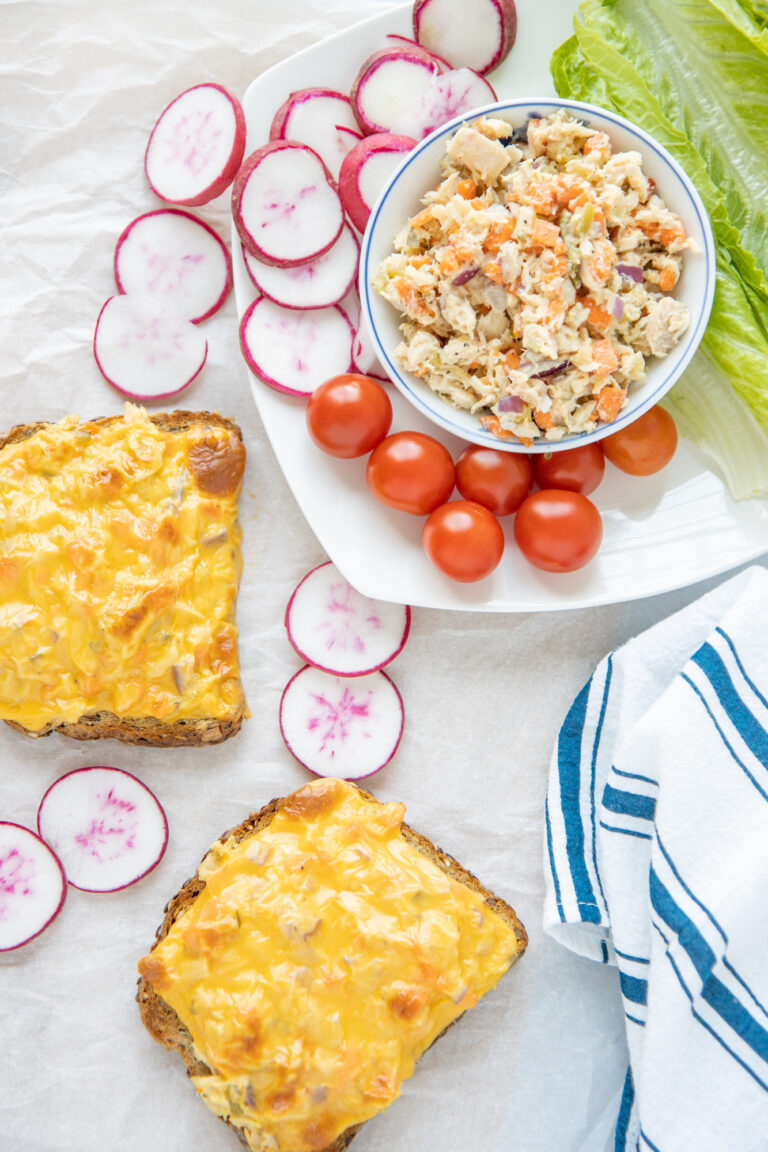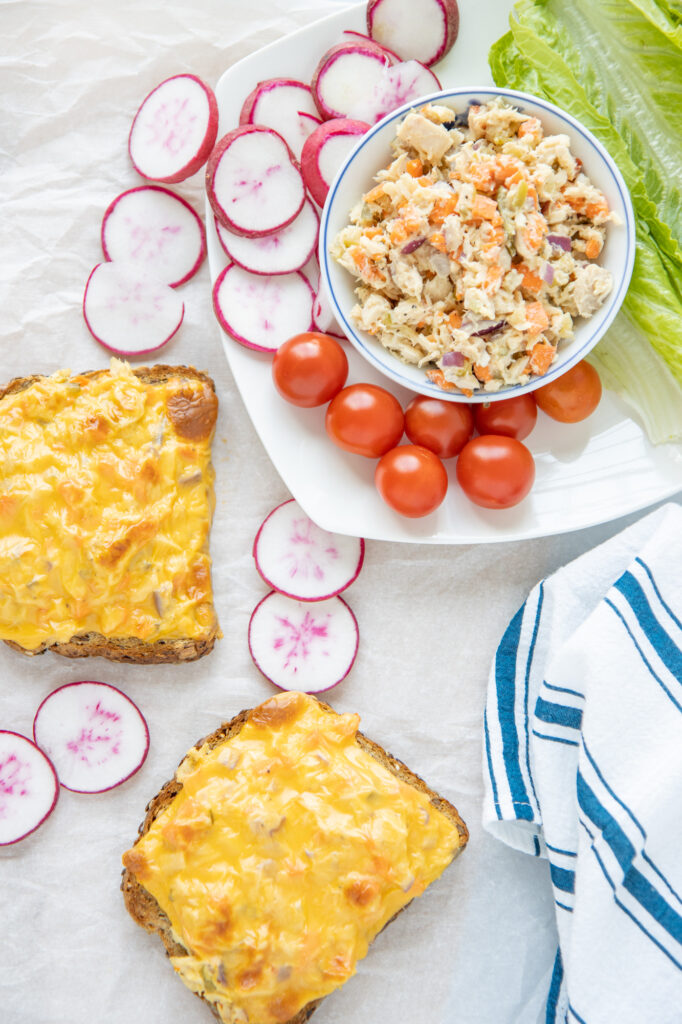 Back to Tuna Salad
This tuna salad recipe is SO easy to make and only takes 10-15 minutes. Start off by mixing the tuna, mayonnaise, carrot, red onion and salt and pepper together. This recipe is not as sticky as most because I use less mayonnaise.  If you feel like you want the tuna salad to stick together more feel free to add more mayo. To assemble the sandwich, toast up some bread and plop a big scoop of tuna salad on top.  If you want a tuna melt, I recommend adding a slice of American cheese on top. I like to use American because it reminds me of my childhood. Toasting it in a toaster oven works really well, or carefully broil the tuna-melt in the oven to melt the cheese. Add additional toppings of your choosing such as lettuce, tomatoes or radishes.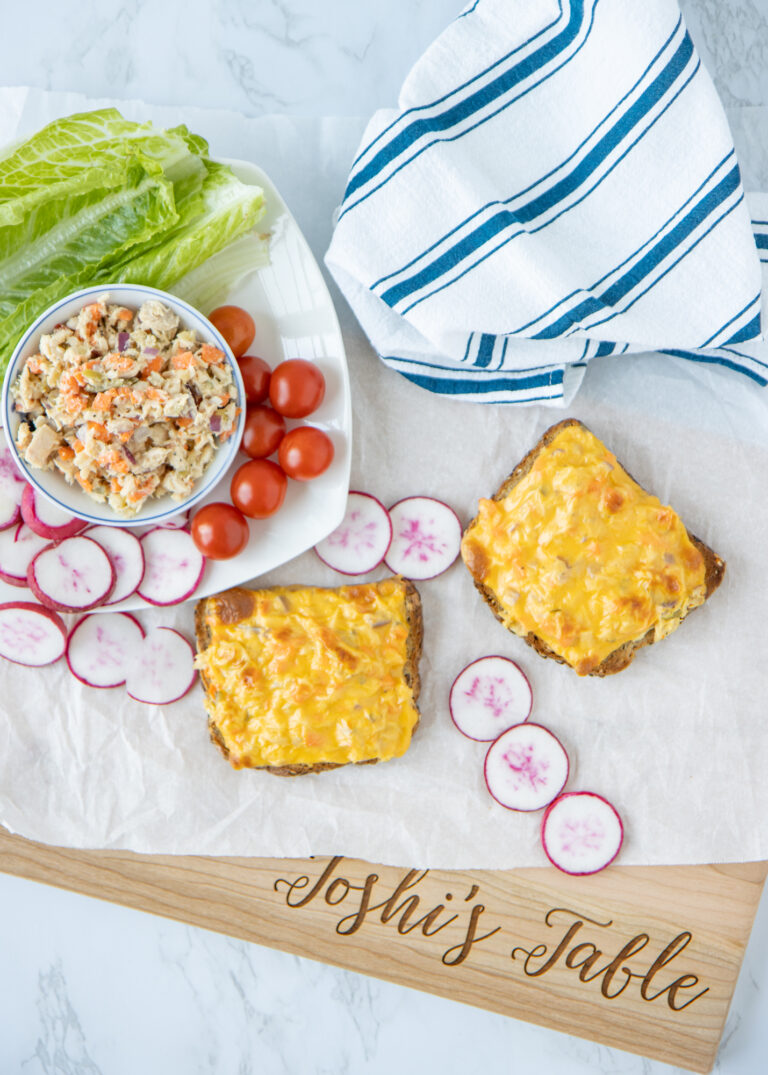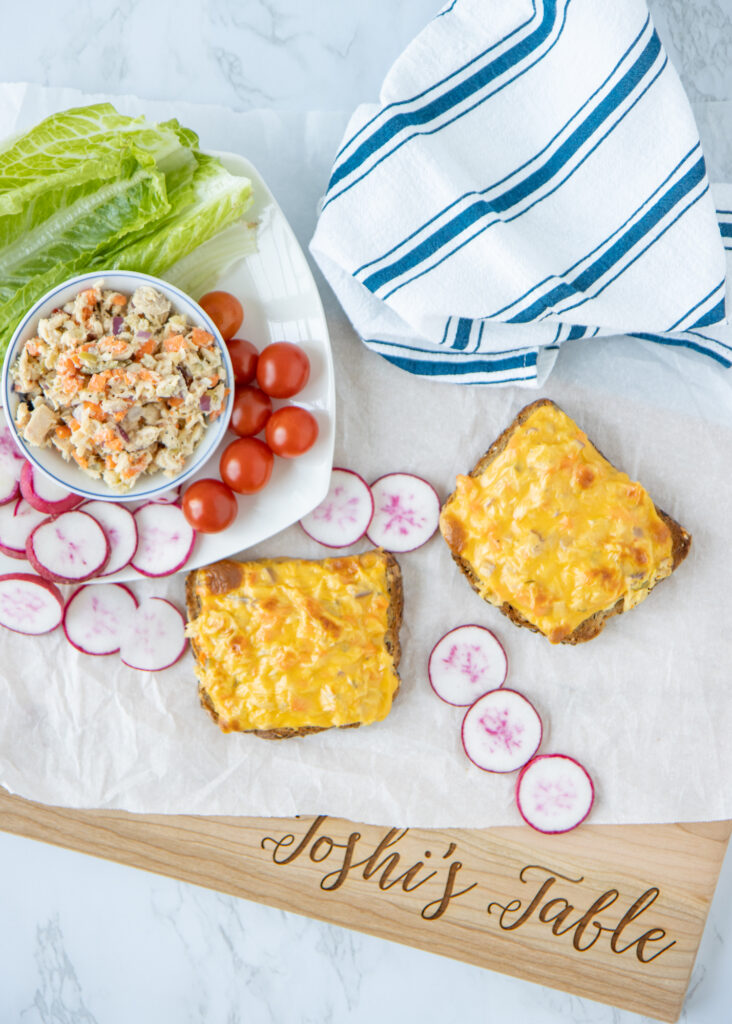 I hope this post has given you more insight as to the kinds of recipes I plan on featuring on Toshi's Table. Please let me know if you have any suggestions or requests! Happy eating!
Print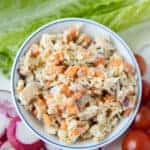 Tuna Salad
Author:

Emily Toshiko

Prep Time:

10 minutes

Cook Time:

5 minutes

Total Time:

15 minutes

Yield:

4

servings

1

x
---
Description
This tuna salad is light and tasty. Enjoy it on toast, a wrap or a bed of greens. Add a slice of American cheese to turn it into a tuna-melt!
---
1

can of tuna packed in water, drained

2 tbsp

red onion, diced

1

small carrot, diced

1 tbsp

mayonnaise

1 tbsp

sweet relish
bread or tortilla wraps
pinch of salt
freshly ground black pepper
Optional: American cheese slices
---
Instructions
Mix the tuna, diced red onion, diced carrot, mayonnaise, sweet relish and a pinch of salt and black pepper together.
To make a sandwich:  
Spoon tuna salad on to your favorite toasted bread. Add any toppings you desire such as lettuce and tomato.
To make a tuna-melt:
Lay out slices of bread on a baking sheet. Top with tuna salad, then a slice of American cheese. Broil in the oven until the cheese starts to melt and bubble.
---
Notes
I recommend making the tuna-melt in a toaster oven if you have one at home. It's easier to keep an eye on while the cheese it melting. If you use a regular oven, make sure to watch it carefully so it doesn't burn.
This tuna salad is not sticky, meaning it is a bit messy and will fall apart. If you want it to hold together more, add more mayo.