Hey friends!  I've been working this recipe for a while now, and I'm happy to say it is finally ready to be shared!  This one is a keeper for sure.  It's healthy, creamy, surprisingly vegan, and SO YUMMY. Without further ado let me share: cauliflower, roasted garlic and sun-dried tomato pasta.  This dish is packed full of flavor, healthy ingredients and is absolutely delicious.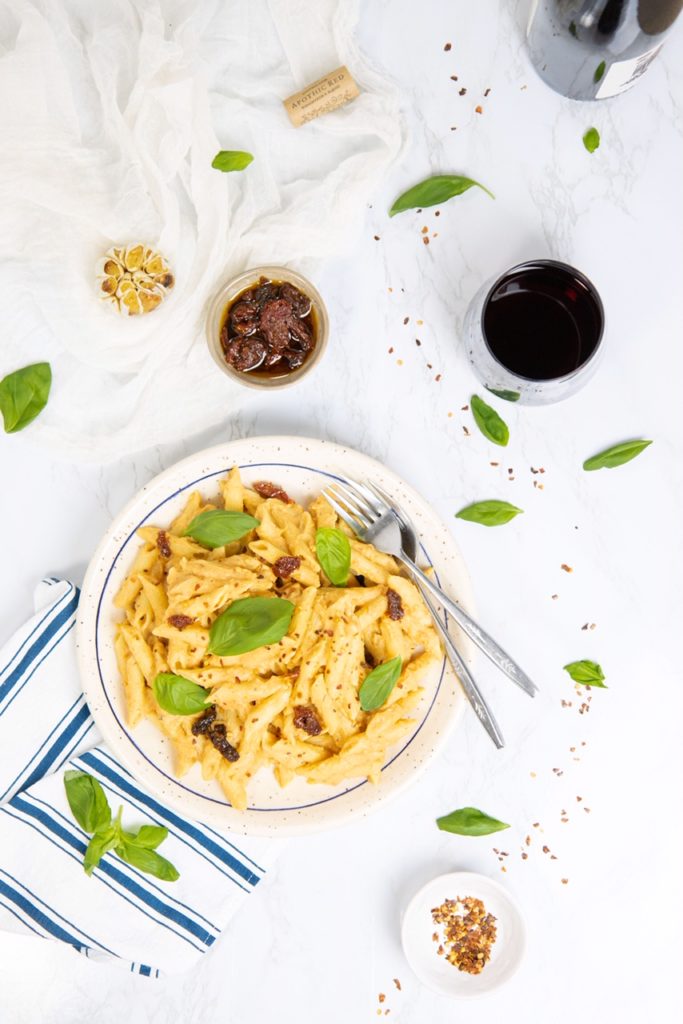 As I said before, I've been working on this cauliflower, roasted garlic and sun-dried tomato pasta recipe for a while. I had an idea in my head of the way I wanted it to look and taste, but it took a while before I achieved those results. I'm so happy I kept working on this recipe because it is now one of my favorites. I'm excited to see what you all think! I know there may be some hesitation with the cauliflower, but as they say, "don't knock it until you try it."
The Special Ingredients: Roasted Garlic & Reserved Sun-dried Tomato Oil
There are two special ingredients that truly bring this dish to the next level.  The first is a head of roasted garlic.  For those of you that haven't tried roasted garlic, please do! It certainly was a game changing ingredient for me. The first time I made roasted garlic I was blown away by how delightful it is.  Roasting garlic transforms the bitey taste into an aromatic, mellow, smooth flavor.  It is absolutely delicious.  You can enjoy it spread over a slice of bread or add it to a dish to amplify depth of flavor.  I strongly encourage you to try it out, however, if you aren't feeling the roasted garlic, feel free to simply add in a few cloves of garlic when you are sautéing the onion.   
The second special ingredient is the reserved olive oil the sun-dried tomatoes are packed in. The oil is infused with flavor from the sun-dried tomatoes. Using the infused oil certainly helps bring the dish together! However, if you only have dried sun-dried tomatoes, just use regular olive oil. It'll still taste great!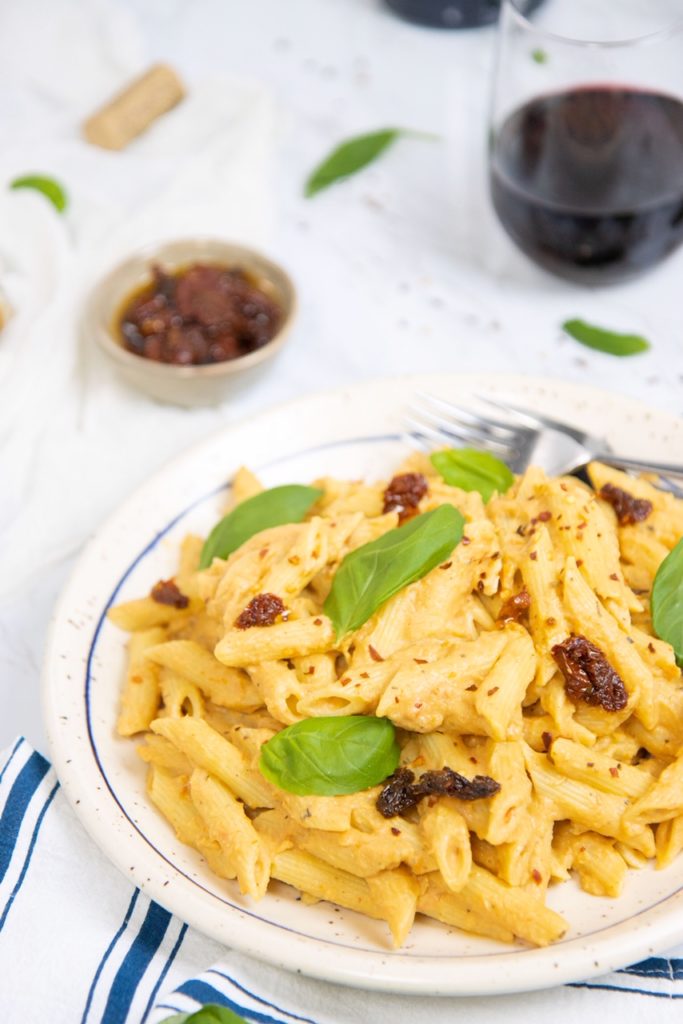 The recipe might seem a bit labor intensive, but this dish comes together in under an hour and it is well worth the work that goes into it.  The roasted garlic takes about 40 minutes in the oven, (or only 25 minutes in the air fryer) but while that is roasting you will have time to prepare the rest of the ingredients. 
The How-To
First, boil the cauliflower in salted water. This is what creates the nice creamy texture in the sauce. While the cauliflower is cooking, start sautéing the onions, red pepper flakes, basil and sun-dried tomatoes. Once the onions are cooked through, add the white wine and rapidly simmer until it is reduced by half the volume.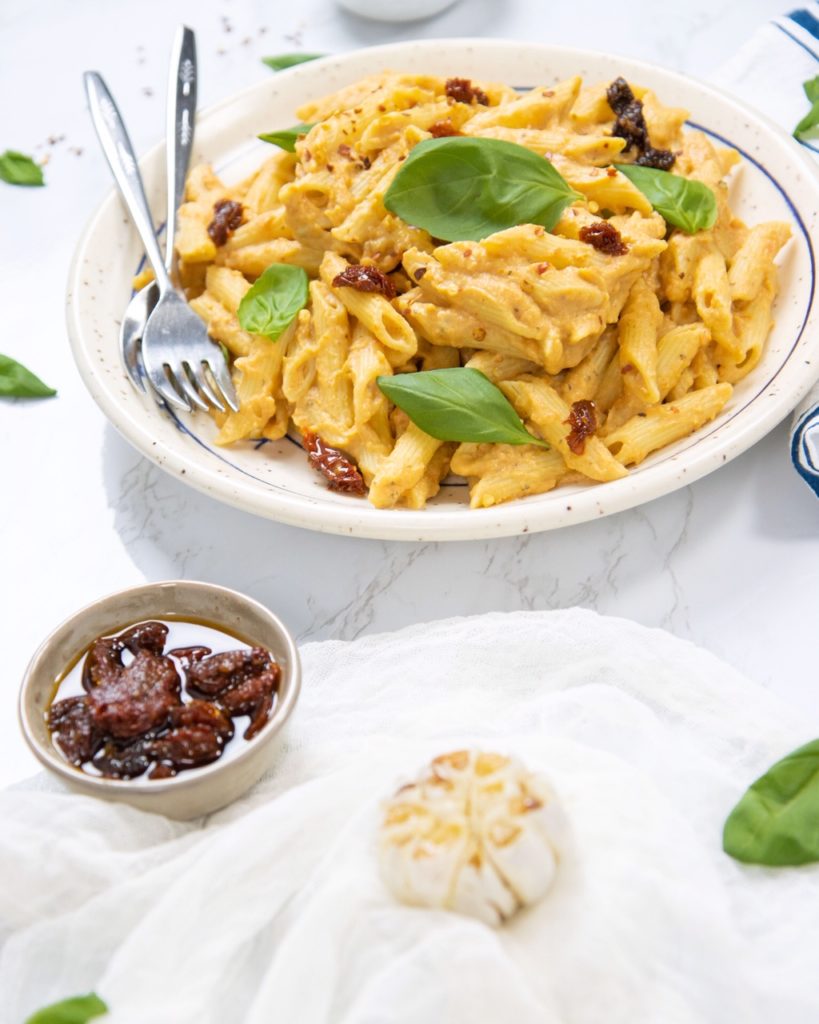 Next, add the plant-based milk (almond milk, soy milk, oat milk…whatever you prefer!), the cauliflower, nutritional yeast and throw the roasted garlic in when it comes out of the oven. Now the fun part, blend, blend, blend! I like to use an immersion blender, but this can be done in a food processor or blender as well. Blend the sauce until it comes to the perfect consistency. Depending on your preference you may have to add more plant-based milk.
Finally, cook up a box of your favorite pasta (I recommend penne). Serve a big bowl of pasta with the cauliflower, roasted garlic and sun-dried tomato sauce and eat up! Happy Cooking!
Print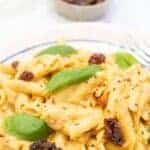 Cauliflower, Roasted Garlic & Sun-dried Tomato Pasta
Prep Time:

15 minutes

Cook Time:

45 minutes

Total Time:

1 hour

Yield:

4

1

x

Category:

Entree, Recipes
---
Description
Cauliflower, roasted garlic & sun-dried tomato pasta is so creamy and surprisingly vegan! 
---
1

head of garlic

1

head of cauliflower, cut into florets

1

yellow onion, chopped

½

c +

¼

c sun-dried tomatoes in oil, chopped

2 tbsp

reserved oil from sun-dried tomatoes

2 tsp

olive oil

1 cup

white wine

1 cup

plant-based milk

¼ cup

nutritional yeast

1

box of penne (

16 oz

)

½ tsp

dried basil

¼ tsp

red pepper flakes

¼ tsp

salt
Freshly ground black pepper
Fresh basil
---
Instructions
Preheat the oven to 400 degrees. Prepare the garlic by peeling away as much of the papery skin as possible, while keeping the cloves intact. You want the garlic head to stay whole during this process. Carefully slice about ¼ of an inch off the top of the garlic head. Place the head of garlic on a piece of foil and drizzle the garlic with 1-2 teaspoon of olive oil. Wrap the garlic head in aluminum foil. Bake it for 40 minutes.
Bring a large pot of salted water to a boil. Boil the cauliflower for 8-10 minutes, until easily pierced with a fork. Drain the cauliflower.
Heat 2 tablespoon of the reserved oil from the sun-dried tomatoes in a large saucepan over medium heat. Add the onion and ¼ teaspoon of salt. Sauté until translucent about 8 minutes. Add the ¼ teaspoon of red pepper flakes, ½ teaspoon of dried basil, and ½ cup of the sun-dried tomatoes. Save the rest of the sun-dried tomatoes for garnish. Stir and sauté until fragrant (1-2 minutes). Add 1 cup of white wine. Bring the wine to a rapid simmer and let it reduce by half its volume for 5-8 minutes. Add in 1 cup of plant-based milk and stir. Turn off the heat.
Add the cauliflower, nutritional yeast and roasted garlic, squeezing the cloves out of their paper skin.
Using an immersion blender or food processor, blend the sauce together until it becomes creamy. You may have to add a splash more of plant-based milk until you get the right consistence.
Cook the pasta according to the package directions.
Grab a big bowl of pasta, top it off with sauce and garnish with chopped sun-dried tomatoes and fresh basil. Enjoy!
---
---