Today I would like to share with you the recipe for my favorite healthy-ish banana bread. It's hard to go wrong with banana bread; it's such a classic! It's a great way to use up brown bananas. I always have a few stored in the freezer so I can whip up this recipe in a moment's notice. I love making this banana bread because it's so easy and tasty.  All you have to do is dump the ingredients into a bowl, mix it up and bake it.  The recipe I am sharing with you has zero oil, limited sugar and no butter, but I promise it's still delicious!  I even sneak in some ground flax seed for an omega-3 boost.
I've recently begun to dip my toes into the world of baking. I've always enjoyed cooking a bit more than baking, but I am really starting to come around to baking. I feel like my banana bread recipe is fail-proof, which is one of the reasons I love it. However, a couple weekends ago I decided to venture out of my comfort zone and I made sourdough bread following this recipe and it was a hit! It was my first time attempting sourdough bread, but the recipe was surprisingly easy to follow. I will definitely be making it again! Hopefully one day I will be able share more complex baking recipes, but for today I hope you enjoy the simplicity of my banana bread.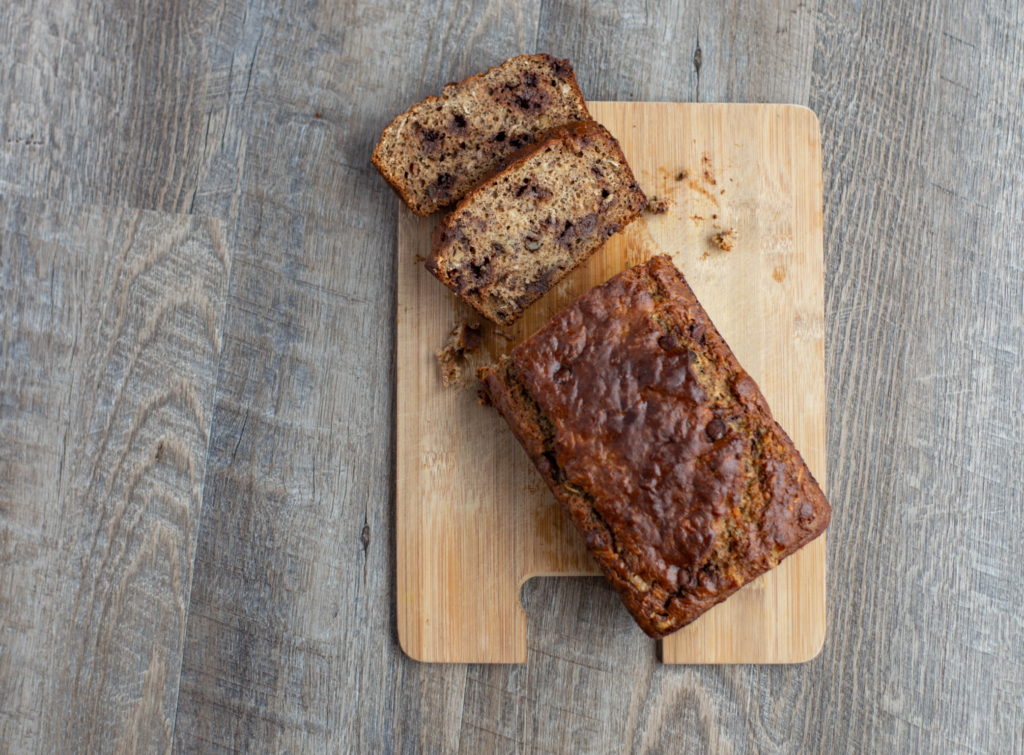 One of my favorite things about banana bread is that it's appropriate to eat for breakfast or dessert (with ice cream of course)! Banana bread does not last long around my apartment.  I'm lucky if we make it 3 days. The smell of it baking in the oven fills the entire house with a pleasant aroma. I can barely wait for it to cool before I slice myself a piece.  It's absolutely perfect with the oooey-gooey melted chocolate chips, the bite of walnut, and the banana flavor is jusssst right. I hope you enjoy this recipe as much as I do! If banana bread isn't your thing click here to check out other breakfast recipes from Toshi's Table. Happy baking! 
Print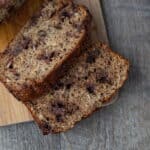 My Favorite Healthy-ish Banana Bread
Author:

Emily Toshiko

Prep Time:

10 minutes

Cook Time:

50 minutes

Total Time:

1 hour

Category:

breakfast, dessert
---
Description
My favorite healthy-ish banana bread is my NO FAIL recipe. It's so easy to make and SO GOOD.
---
3

brown bananas

1

egg

½ cup

non-fat plain Greek yogurt

2 tbsp

of unsweetened applesauce

⅓ cup

brown sugar

¼ cup

maple syrup OR honey

1 teaspoon

vanilla extract

1 teaspoon

baking soda

½ teaspoon

ground cinnamon

¼ teaspoon

salt

1 ½ cups

all-purpose flour

⅓ cup

ground flax seeds

¾ cup

semisweet chocolate chips

¼ cup

walnuts, roughly chopped

¼ cup

unsweetened shredded coconut (optional)
---
Instructions
Preheat the oven to 350 degrees.
In a large mixing bowl, mush the brown bananas together using a fork. Once they are broken up, add the egg and lightly whisk together. Add the rest of the ingredients. Gently mix until a batter forms and the ingredients are incorporated together.
Lightly grease ( I use non-stick spray) a 9" x 5" loaf pan. Pour the batter into the pan.
Bake in the oven for 50 minutes.
Let cool 10-15 minutes if you can wait that long!
---