My boyfriend Kyle and I recently took a trip to Charlotte, North Carolina and while we were there, we ate at a cute café called Zeta Janes. This tofu and potato breakfast salad is inspired from Zeta Janes "Organic Greens Breakfast Salad." Kyle has been vegan for about 3 months therefore he was excited to see this vegan option on the menu. Although I did not order the salad, I tried a bite of his and I loved it! I knew instantly that I needed to recreate the salad for Toshi's Table. My tofu and potato breakfast salad contains the same basic ingredients as Zeta Janes, but my tomato-basil vinaigrette is a bit lighter, creating a refreshing zing for every bite.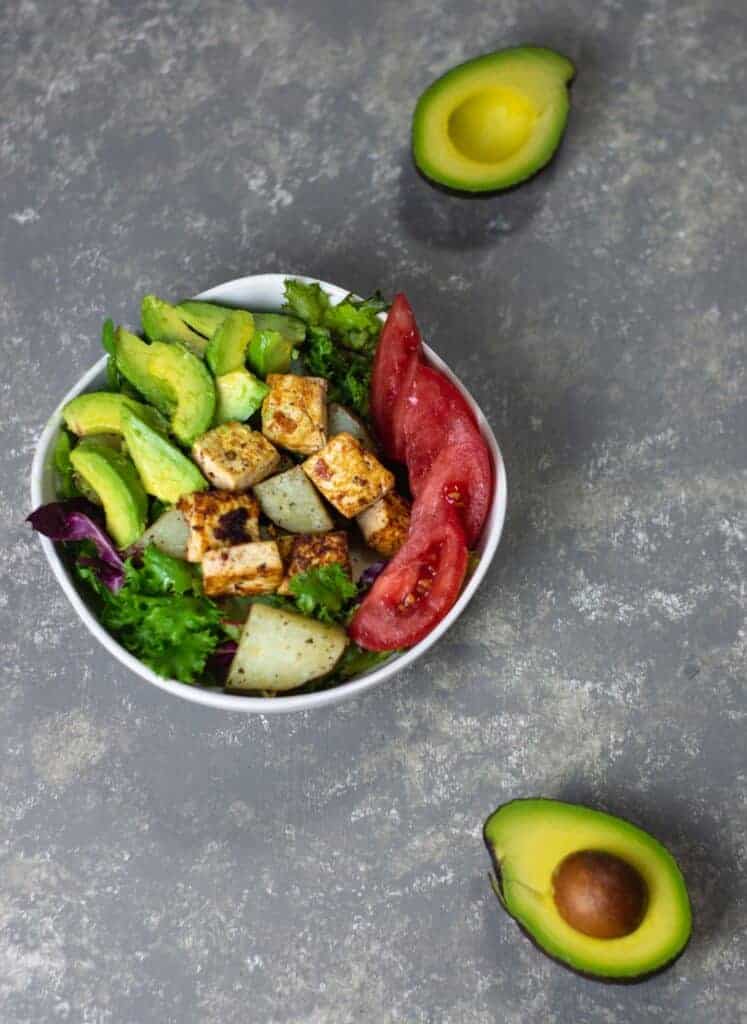 The tofu and potato breakfast salad takes about 50 minutes to make, start to finish. For those of you who are NOT morning people (myself included), this is a great dish to make over the weekend and meal prep for weekday breakfasts. Furthermore, it's easy to recreate in the morning. Simply heat up the tofu and potatoes, drizzle on the dressing and you're good to go! After eating this for breakfast, I feel ready to start my day. If you've read my Miso Power Bowl post, you already know I'm not the biggest fan of breakfast. Honestly, most morning Kyle makes me oatmeal because he knows I don't function well in the morning. I'm thankful he makes breakfast, and I'm happy when I'm able to return the favor by preparing meals in advance.
This tofu and potato breakfast salad is a healthy way to start your day. It's filled with leafy mixed greens, marinated tofu, roasted potatoes, creamy avocado, fresh tomatoes and finally, a zingy tomato-basil vinaigrette. My favorite part of the dish is the vinaigrette. It is based off a recipe from Salt, Fat, Acid, Heat by Samin Nosrat. I made the vinaigrette a tad bit sweeter by adding agave (basically the vegan version of honey). Additionally, I used a clove of garlic, instead of shallots. In order to make this dressing truly delicious, make sure to use a perfectly ripe tomato; it will add to the sweetness. The tomato-basil vinaigrette is also used to marinate the tofu to give it that flavor boost.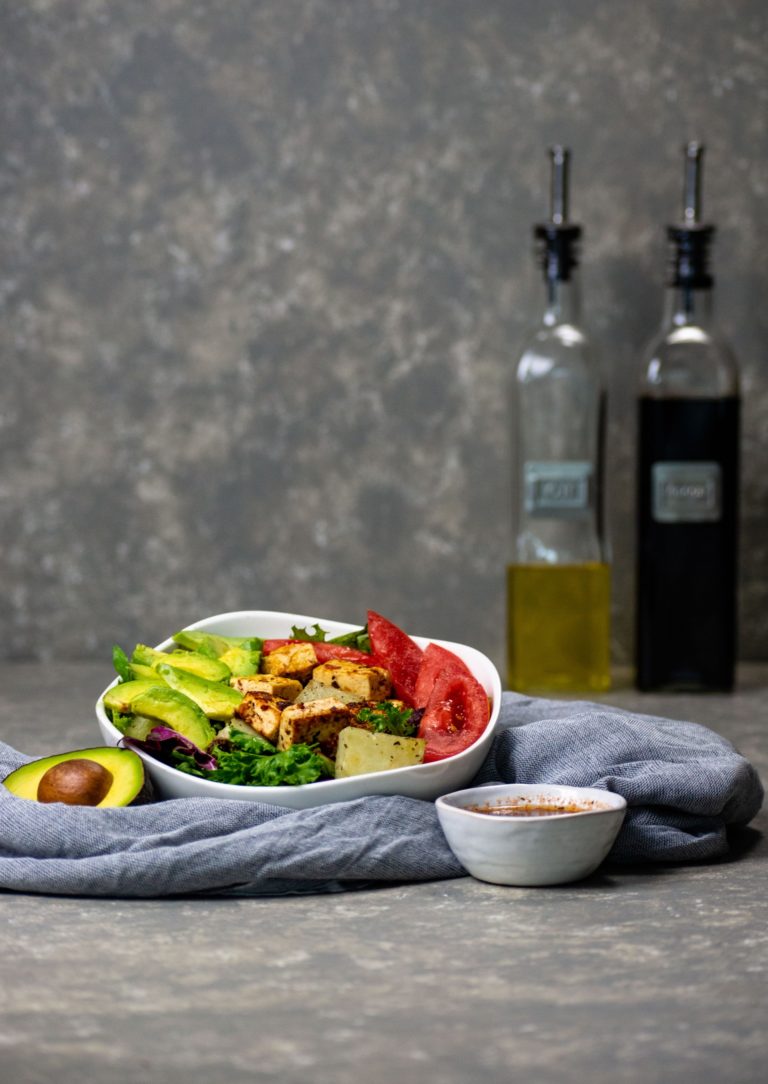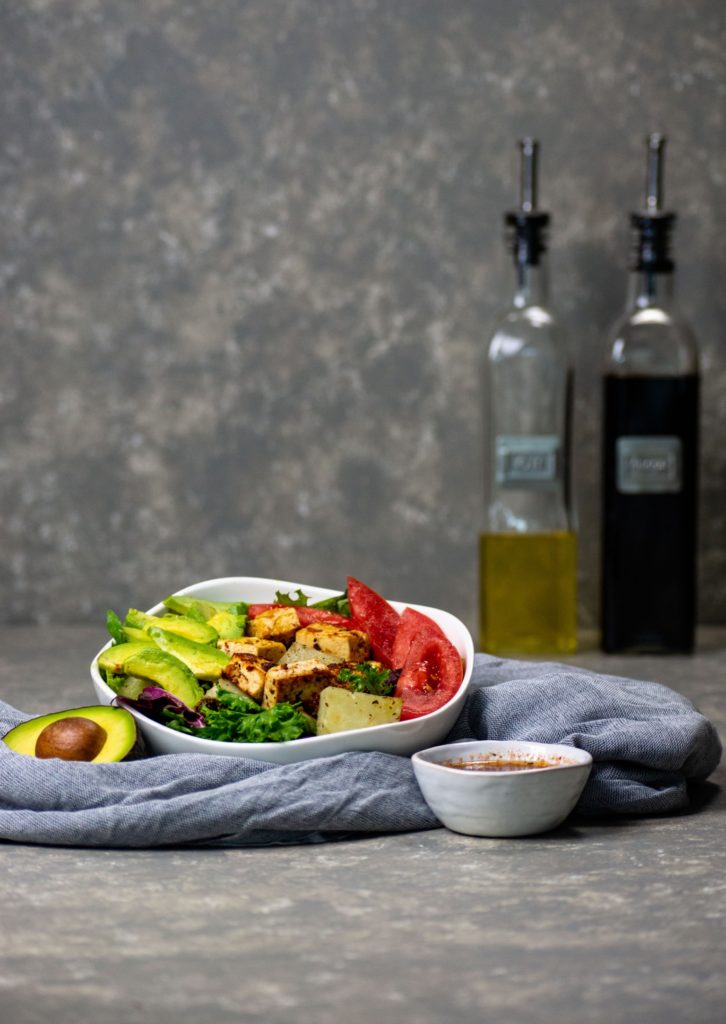 I know salad for breakfast might seem a little strange at first, but trust me, it's delicious and it will make you feel prepared for whatever your day may hold. Tell me what you think about this tofu and potato breakfast salad in the comments below. Happy Eating!
Print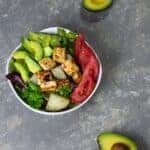 Tofu and Potato Breakfast Salad
Prep Time:

15 hours

Cook Time:

35 hours

Total Time:

50 hours

Yield:

4

1

x

Category:

Breakfast
---
Description
This tasty tofu and potato breakfast salad is a healthy way to start your day. 
---
4 cups

mixed greens

3

tomatoes

1

-

2

avocados

1

package of extra firm tofu, drained and dried

2

russet potatoes, quartered and cubed

1 tbsp

olive oil

1 tsp

salt

½ tsp

dried basil

½ tsp

garlic powder
For the Vinaigrette:
2 tbsp

red wine vinegar

1 tbsp

balsamic vinegar

1

clove garlic, minced

1

tomato, halved and grated

¼ cup

olive oil

½ tsp

dried basil

½ tsp

salt

1 tbsp

agave
Fresh ground black pepper
---
Instructions
Drain the tofu and wrap it in paper towels and place it under a plate or a few books in order to all the excess water to escape. Let it sit while preparing the other ingredients.
Preheat the oven to 450 degrees.
While the oven is preheating, place the cubed potatoes into a large mixing bowl. Add the olive oil, salt, dried basil and black pepper. Mix until each potato has a coating of olive oil and spices. Pour the potatoes onto a baking sheet covered with aluminum foil. Bake for 10 minutes. Stir the potatoes and bake another 10 minutes.
After the potatoes go into the oven, make the vinaigrette. Add the red wine vinegar, balsamic vinegar, minced garlic, grated tomato, olive oil, basil, salt, agave and black pepper to a small mixing bowl. Whisk until combined.
Next, cube the tofu into bite sized pieces. Add the tofu and ½ cup of tomato-basil vinaigrette into a bowl to all the tofu to marinate. Let it sit for at least 10 minutes. After 10 minutes, heat 1 tbs of olive oil over medium-high heat in a large, nonstick pan. Add the tofu, and fry until brown on both sides, about 10 minutes.
To Assemble:
Add 1 cup of mixed greens (really pack it in there) to a salad bowl. Next, layer on ½ cup of potatoes and ⅓ cup of tofu. Place 4 slices of tomato and ¼-½ of an avocado on top. Drizzle with the lovely tomato-basil vinaigrette. ENJOY!
---