Happy New Year! Better late than never, right? 2020 Is off to a great start and I'm really excited to continue creating and sharing recipes this year.  Today I am sharing the recipe for my roasted root vegetable bowl, with maple-miso tahini sauce.  It's healthy, vibrant and delicious! This recipe was inspired by a conversation I had with my friends about cooking.  My friend Rachel told me how she has a hard time coking at home because A) it's hard to find the time, and B) when she does have the time, often her produce has gone bad.  After thinking for a bit, I suggested cooking with root vegetables because they last longer than other produce.  A few weeks later this recipe for my roasted root vegetable bowl was born!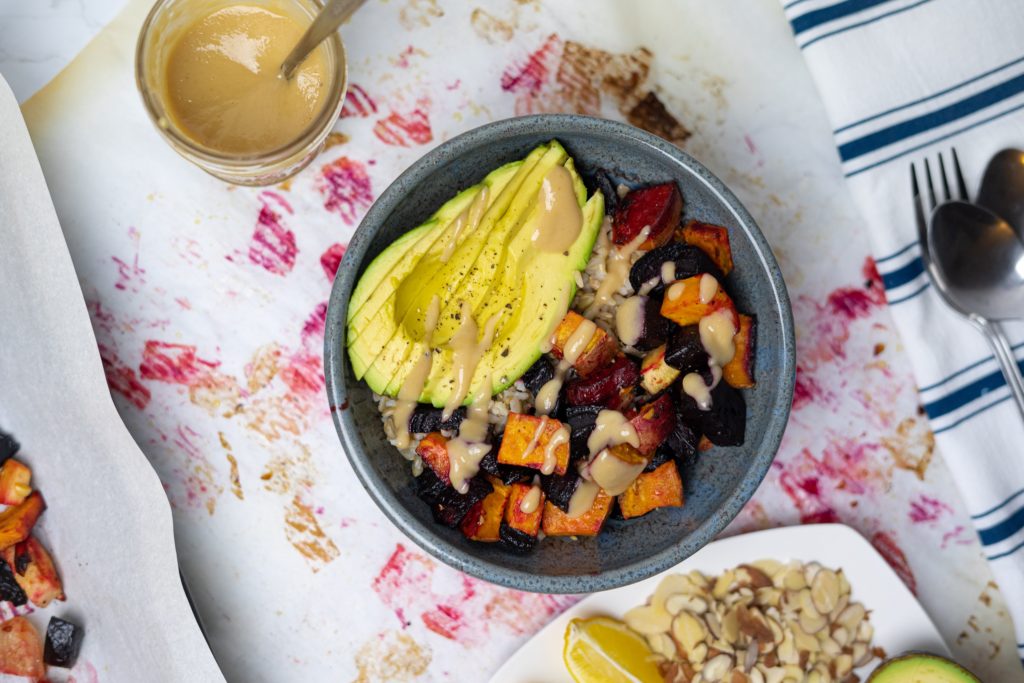 This roasted root vegetable bowl with maple-miso tahini dressing is a fantastic meal to make over the weekend and have ready to bring for lunch all week.  Honestly, I've made this a few times and Kyle and I have had veggies for days!  Even though chopping up all the veggies takes some time, it is WELL worth it because it will save you time and money in the long-haul.  And the maple-miso tahini sauce on top? SO tasty!  Additionally, it brings the necessary balance of sweet and salty to the earthy root vegetables.  It also pairs well with this maple balsamic dressing!
A Note About Beets
I feel like beets are one of those foods where you either love them or don't. When I was growing up, sometimes my dad would buy pickled beets and we would put them on salads, or just eat them on the side. I always looked forward to the sound of the jar opening before dinner. It wasn't every day that we ate pickled beets, so it was a special treat for me! They were sweet, tangy and absolutely delicious. I think because I grew up eating these pickled beets, I always had an affinity towards this earthy vegetable.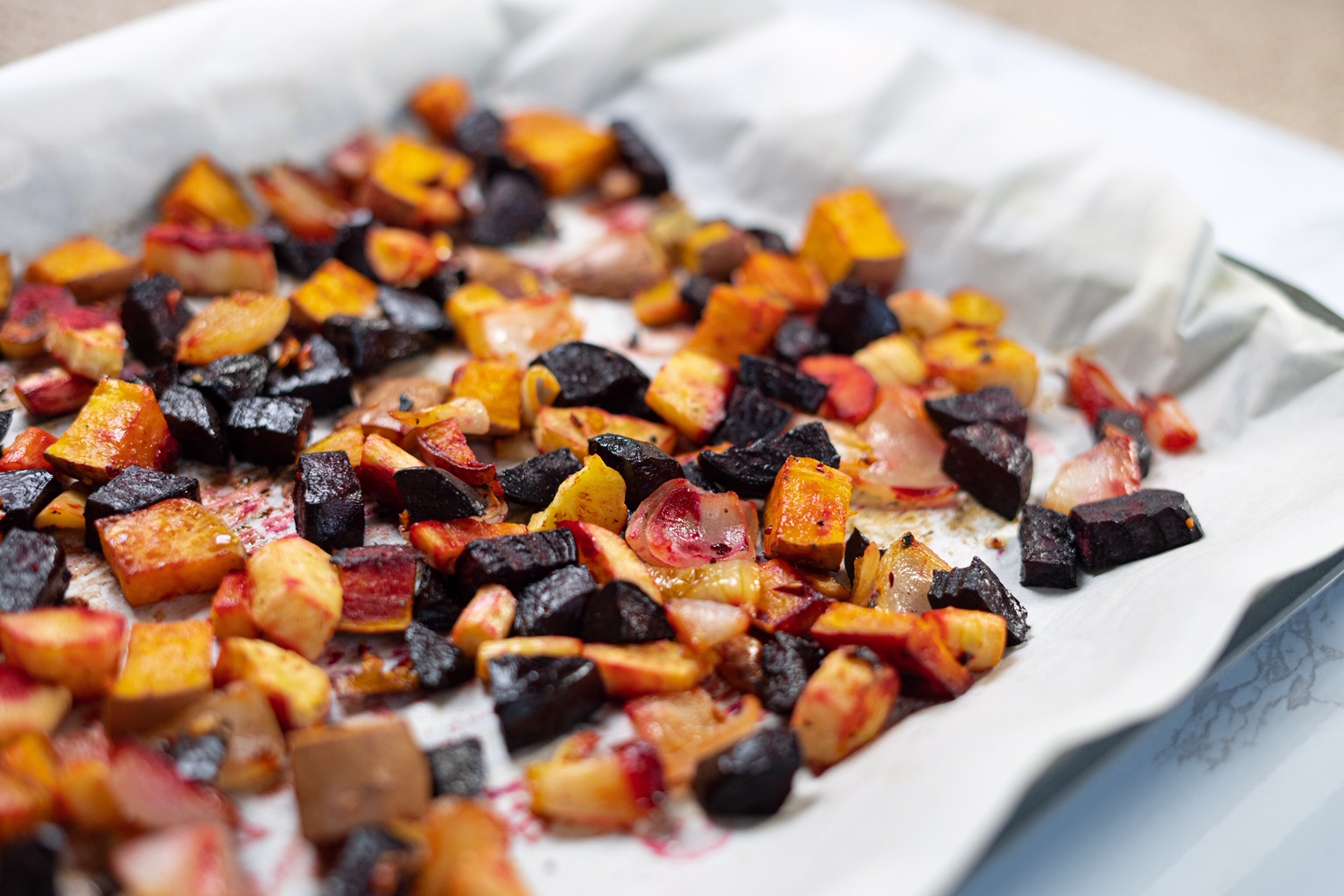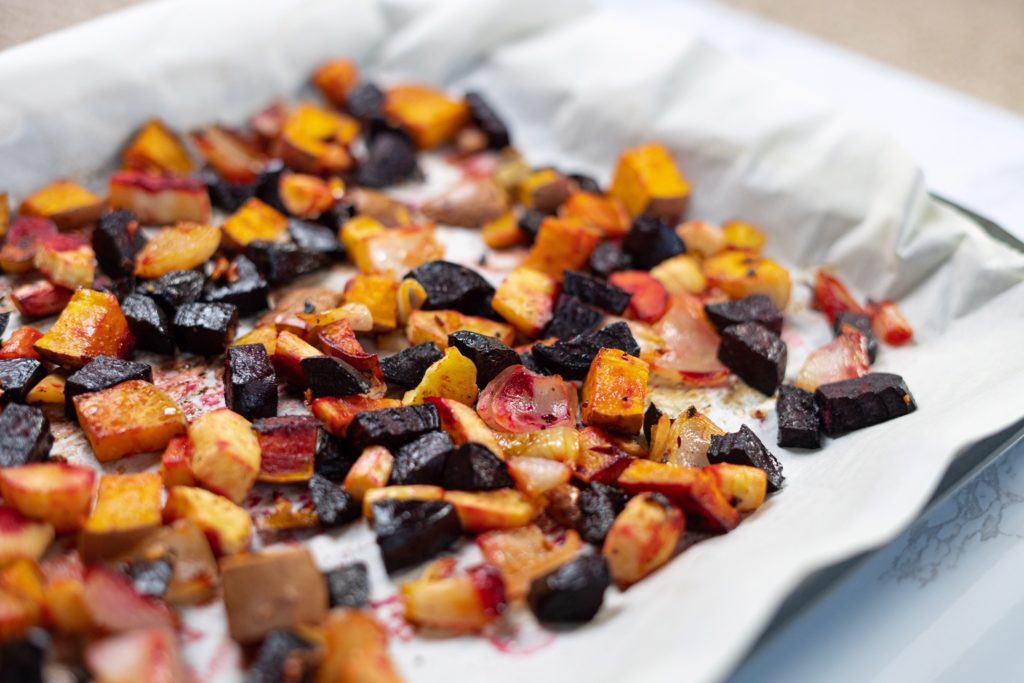 When working with beets, you quickly realize your whole life is about to turn purple. I recommend wearing dark colors to prevent the beet juice from staining your clothes, but honestly the color is beautiful you might not even be mad if your clothes do get stained. Also, if you don't want purple hands for the next few of hours, make sure to wear gloves while peeling and chopping the beets. However, if you do end up with purple hands, show me by taking a picture and tagging @toshistable on Instagram! If you don't already follow me on Instagram CLICK HERE for my page.
Making It Your Own
 I love this recipe because it is adaptable to whatever you have in your fridge.  For example, if there are other vegetables you like, throw them in there! Or if you are someone who doesn't like beets, substitute them for a vegetable of your choosing.  Choose your favorite grain to use as the base layer of this bowl.  I typically use brown rice because I buy giant 15-pound bags of rice, so I always have it around.  Any grain such as quinoa, wild rice, or barley would work well in this dish. Cook your grain in vegetable broth for additional flavor (check out my homemade vegetable scrap broth recipe).  Alternatively, if you're not feeling grain, use your favorite green as a base.  Spinach, kale, arugula, romaine or mixed greens would turn this colorful grain bowl into a beautiful salad. It's like a mix and match meal!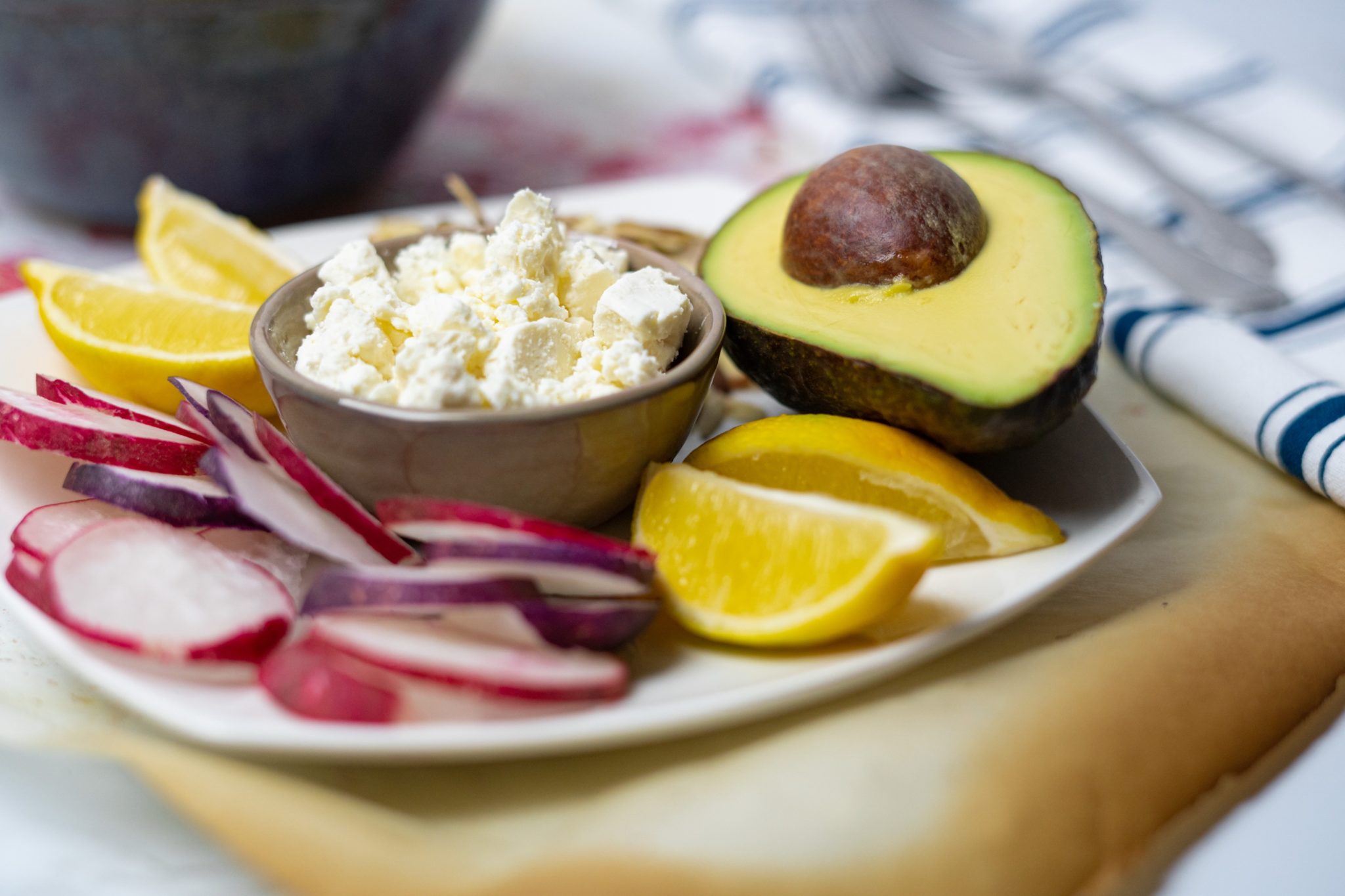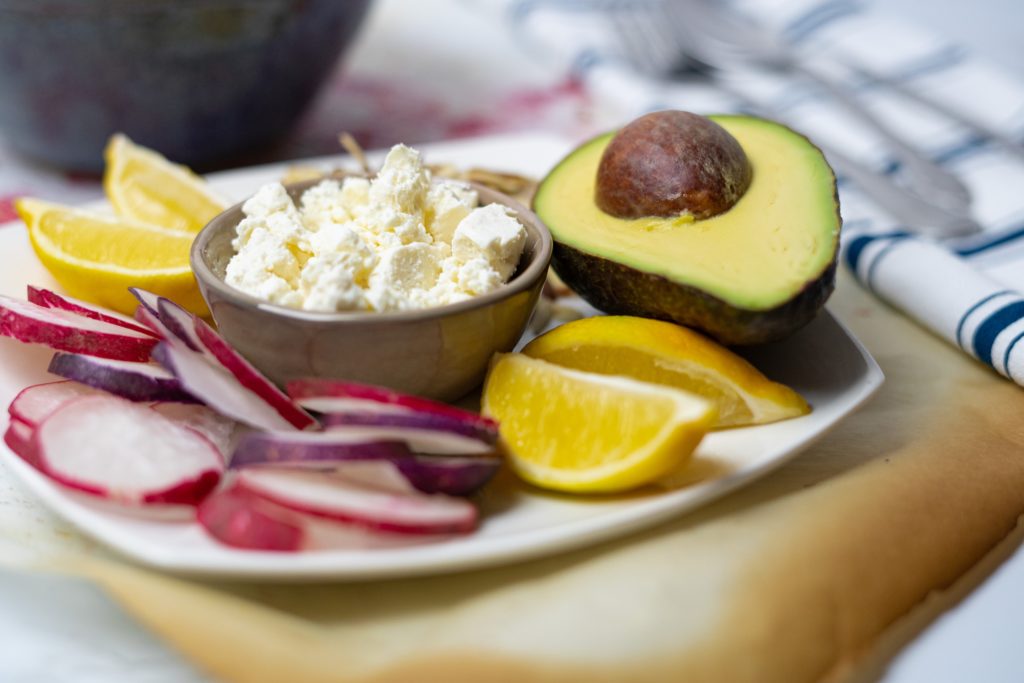 I'm one of those people who will always adapt the recipe to suite my taste and what my body is craving. I think it is important for you to also be able to do that with my recipes. Think of my recipes as more of guidelines than rules (Pirates of the Caribbean reference anyone?). For example, I recommend using 2 baking sheets to roast the veggies, but if you want to cram them all onto one sheet, go for it. Less dishes, am I right?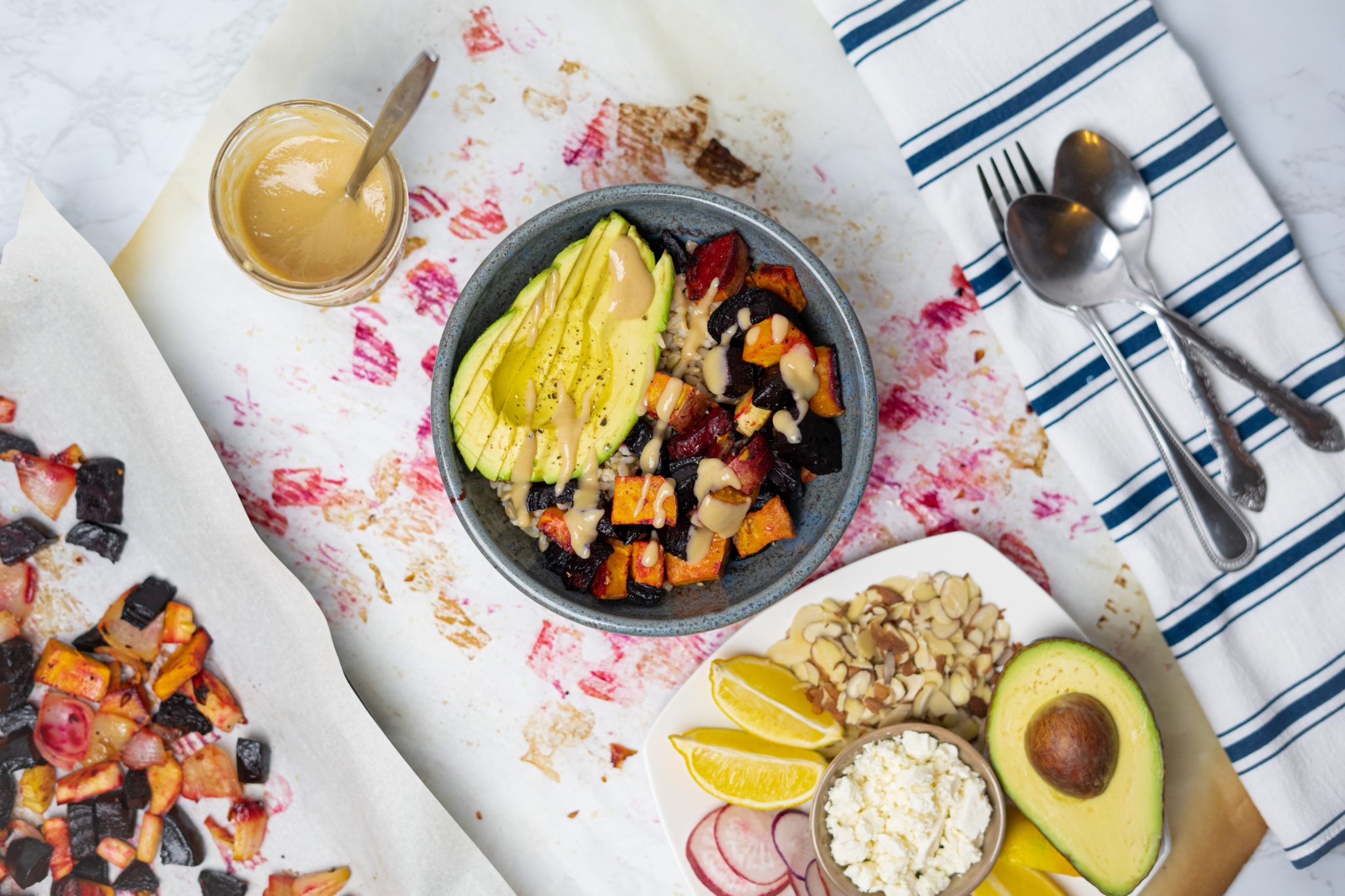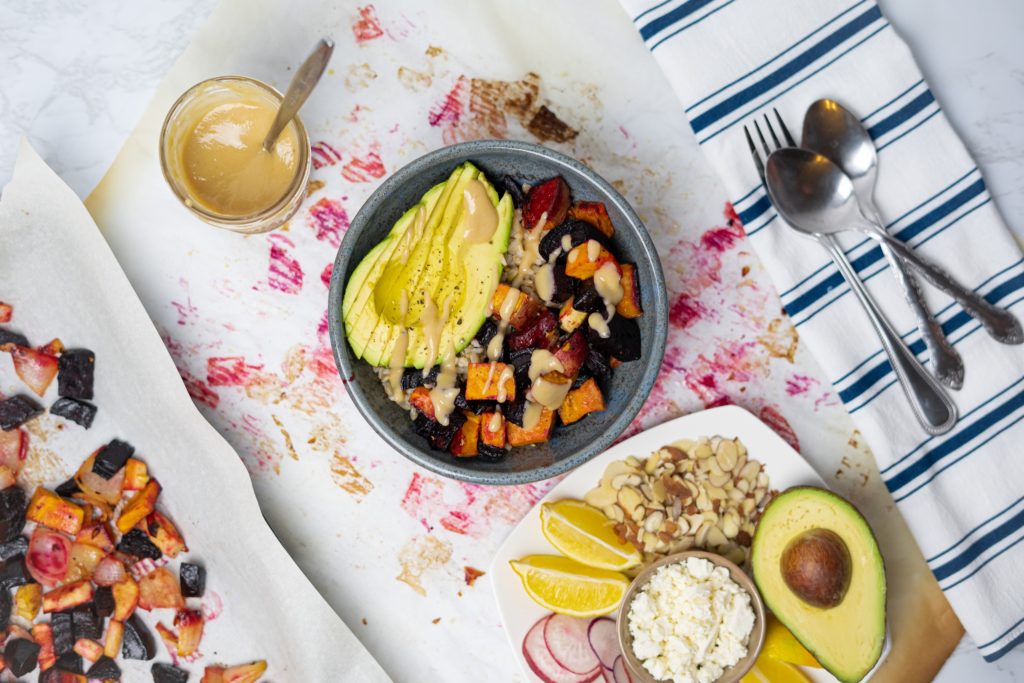 I hope you enjoy my roasted root vegetable bowl as much as I do! Don't forget to comment below when you make this dish. Make sure to follow me on Pinterest and Instagram for more Toshi's Table recipes. Happy eating!
Print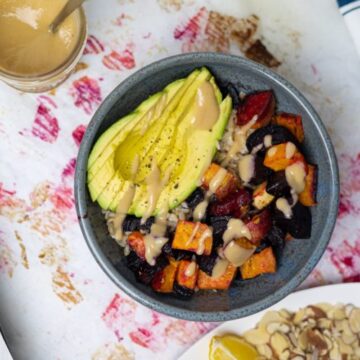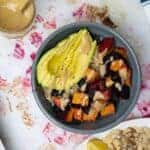 Roasted Root Vegetable Bowl
Prep Time:

20 minutes

Cook Time:

40 minutes

Total Time:

1 hour

Yield:

6

1

x

Category:

Entree, Recipes, Soup & Salad
---
Description
This roasted root vegetable bowl is packed full of flavors! Top it all off with tasty maple-miso tahini dressing. 
---
3 cups

cooked brown rice, or your favorite grain

1

sweet potato (medium-large), cubed

3

-

4

beets (small-medium), peeled and cubed

1

yellow onion, cubed

3

parsnips, cubed

4

cloves of garlic, minced

2

-

3

avocados, cut in half and sliced thinly

2 tbsp

olive oil

¾ tsp

salt

¼

-

½

teaspoon black pepper
For the Maple-Miso Tahini Dressing:
3 tbsp

warm water

1 tbsp

white miso paste

¼ cup

of tahini

1 tbsp

maple syrup, honey or agave
Optional Add Ins:
lemon
radishes
sliced lemon
egg
feta cheese
nuts
---
Instructions
Preheat the oven to 400 degrees.
Cook your grain of choice according to package directions (I use brown rice).
Wash and chop the vegetables. Try to keep the vegetables the same size so they cook evenly.
Add the sweet potato, beets, onion, parsnips, garlic, olive oil, salt & black pepper to a large mixing bowl. Stir together until all they are coated in olive oil.
Line two baking sheets with parchment paper (optional). Divide the vegetables onto the two baking sheets and roast in the oven for 40 minutes, stirring the vegetables after 20 minutes (baking times may vary depending on your oven).
While the vegetables are roasting, make the maple-miso tahini dressing. Mix the warm water and miso paste until the miso paste dissolves. Add the tahini and maple syrup and whisk together until smooth.
Assemble your grain bowl. Start with your grain of choice, top with a big scoop of roasted vegetables, sliced avocado, and any optional add-ins of your choice. Using a spoon, drizzle the tahini dressing on top. Enjoy!
---
Notes
Try to chop the vegetables roughly the same size so they cook evenly.
The beets will take longer to roast than the rest of the veggies, so they will be a slightly harder when they come out of the oven compared to the other veggies. If you do not like this, roast the beets in the oven separately so they can cook longer.