Air fryer snow peas (or sugar snap peas) is a simple, easy to make side dish that can be ready in under 10 minutes! You only need a few basic ingredients and an air fryer for this quick recipe.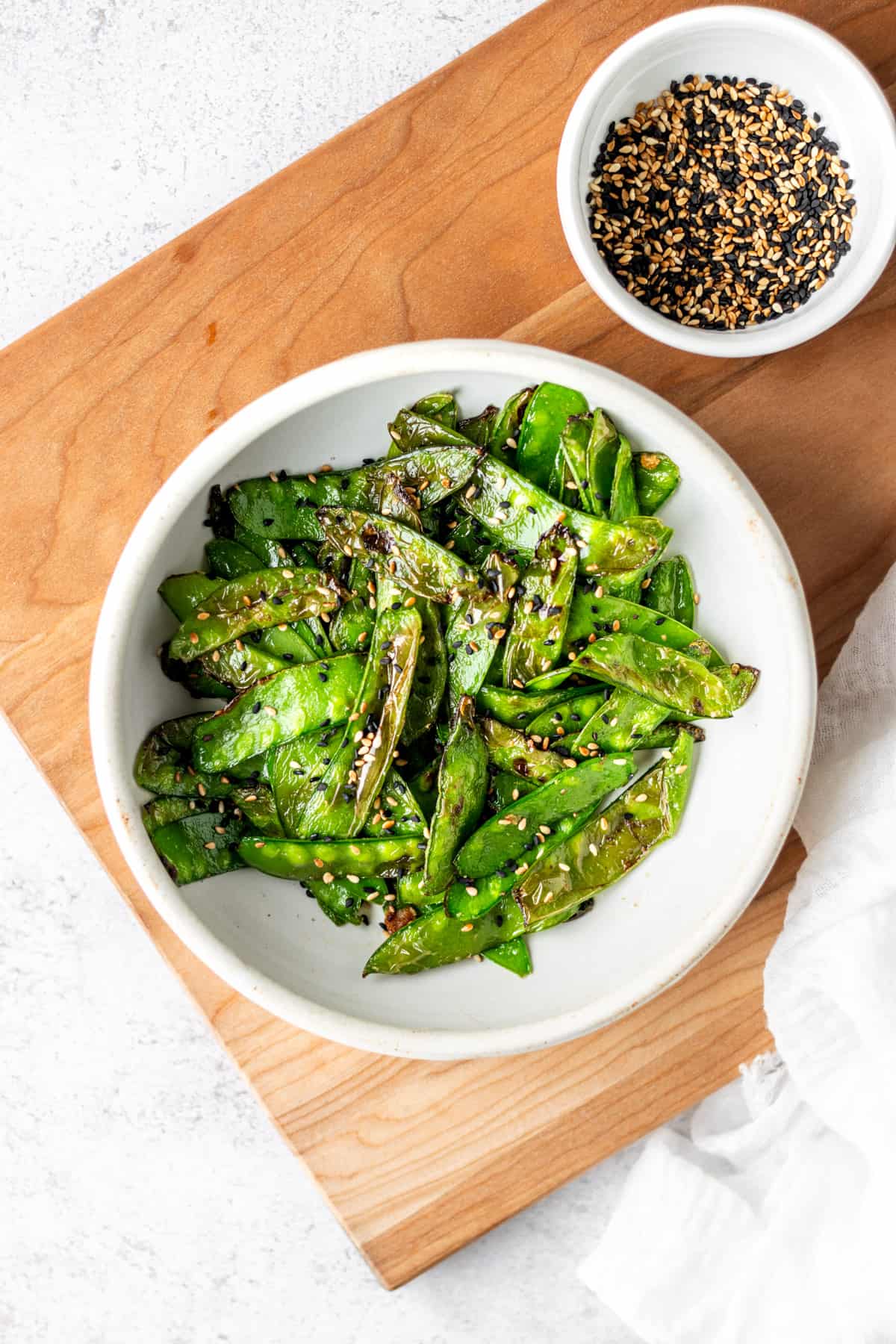 These delicious snow peas can be enjoyed as a snack or side dish! They pair especially well with vegan lettuce wraps, or can be thrown in edamame quinoa salad. You can also eat them straight out of the air fryer if you can't wait (be careful they will be hot)!
Snow peas are also known as Chinese pea pods; it is thought they originated in Southwest Asia. Snow peas are able to survive winter tempers and frost which is likely how they also got their name "snow" peas. 
Jump to:
Why You'll Love This Recipe:
You can enjoy these air fryer snow peas in less than 10 minutes!
Snow peas have heath benefits and contain important vitamins (A, C & K) and minerals (iron & magnesium). 
This quick air fryer recipe won't heat up your kitchen!
Snow Peas vs Sugar Snap Peas
Snow peas and sugar snap peas are ver similar so you can use either for this recipe! Although they are two different varieties of peas, they belong to the same family and can often be used interchangeably in recipes.
Snow peas are thinner, flatter and have smaller seeds/peas than snap peas. Sugar snap peas are ticker, rounder, crunchier and slightly sweeter than snow peas. They are both low carb and have similar nutrition benefits. 
Equipment Notes:
You will need an air fryer for this recipe. If you are in the market for one, I recommend my trusty Gourmia 8 quart air fryer. I use it almost ever day!
Ingredient Notes: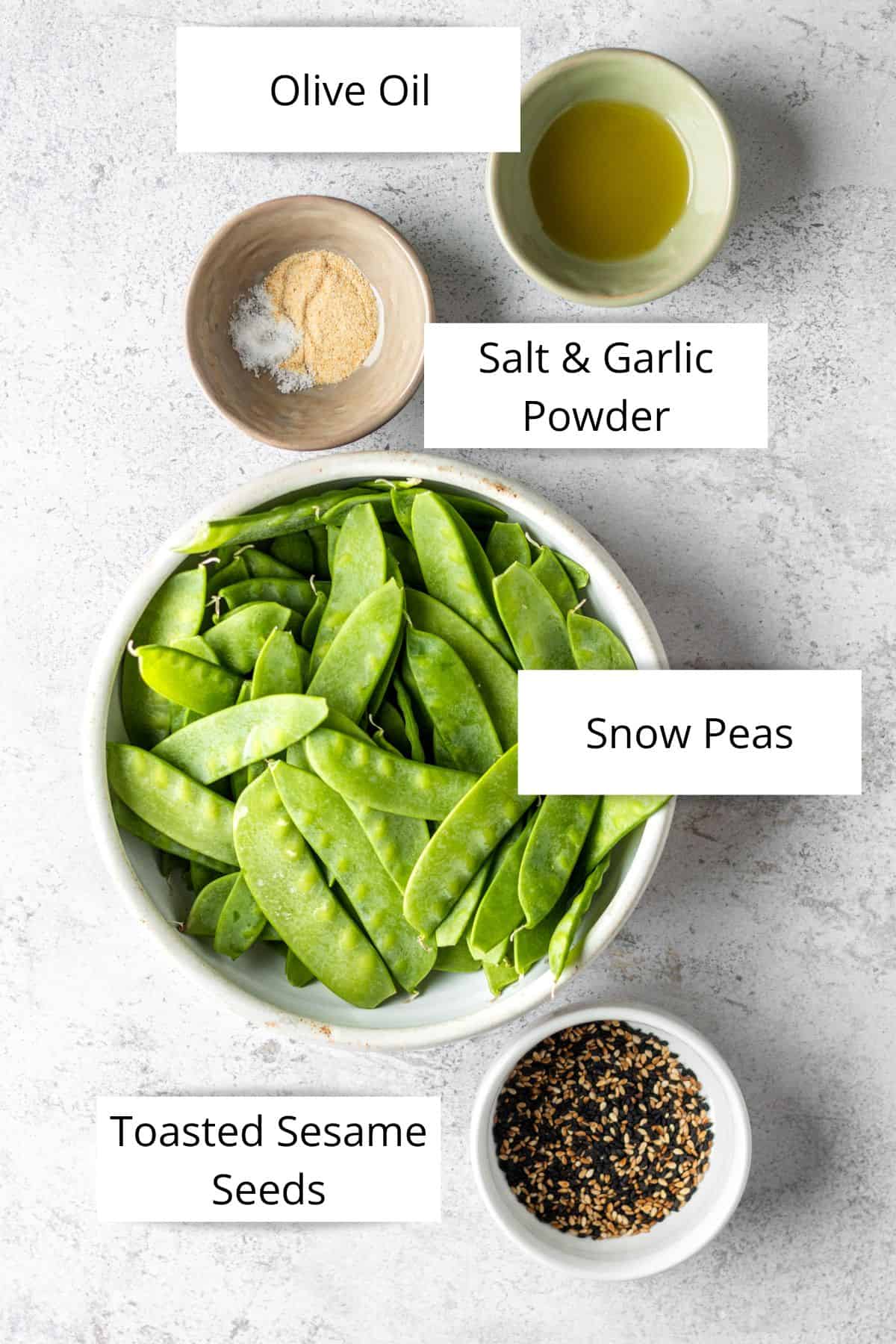 Snow peas - look for snow peas in the produce section of a grocery store. I usually find them near the bagged salads. If you can't find snow peas use snap peas!
Olive oil - you only need a small amount of oil since we are using the air fryer.
Garlic powder - this adds delicious flavor to the snow peas.
Salt - I like to use sea salt.
Toasted sesame seeds - this ingredient is optional but it adds a nice flavor and texture to the dish, giving it more of an asian inspired flavor. 
Substitutions and Variations
Sugar snap peas - snap peas can be used in this recipe in place of snow peas. 
Spicy - add ¼ teaspoon of red pepper flakes before air frying.
Lemon and parmesan - add a squeeze of lemon juice and freshly grated parmesan cheese (or vegan parmesan cheese) after the peas come out of the air fryer
Teriyaki - toss the peas in a tablespoon of teriyaki sauce after they come out of the air fryer.
Maple sriracha - toss the cooked snow peas in 1 tablespoon of maple syrup and 1 tablespoon of sriracha!
Trimming Snow Peas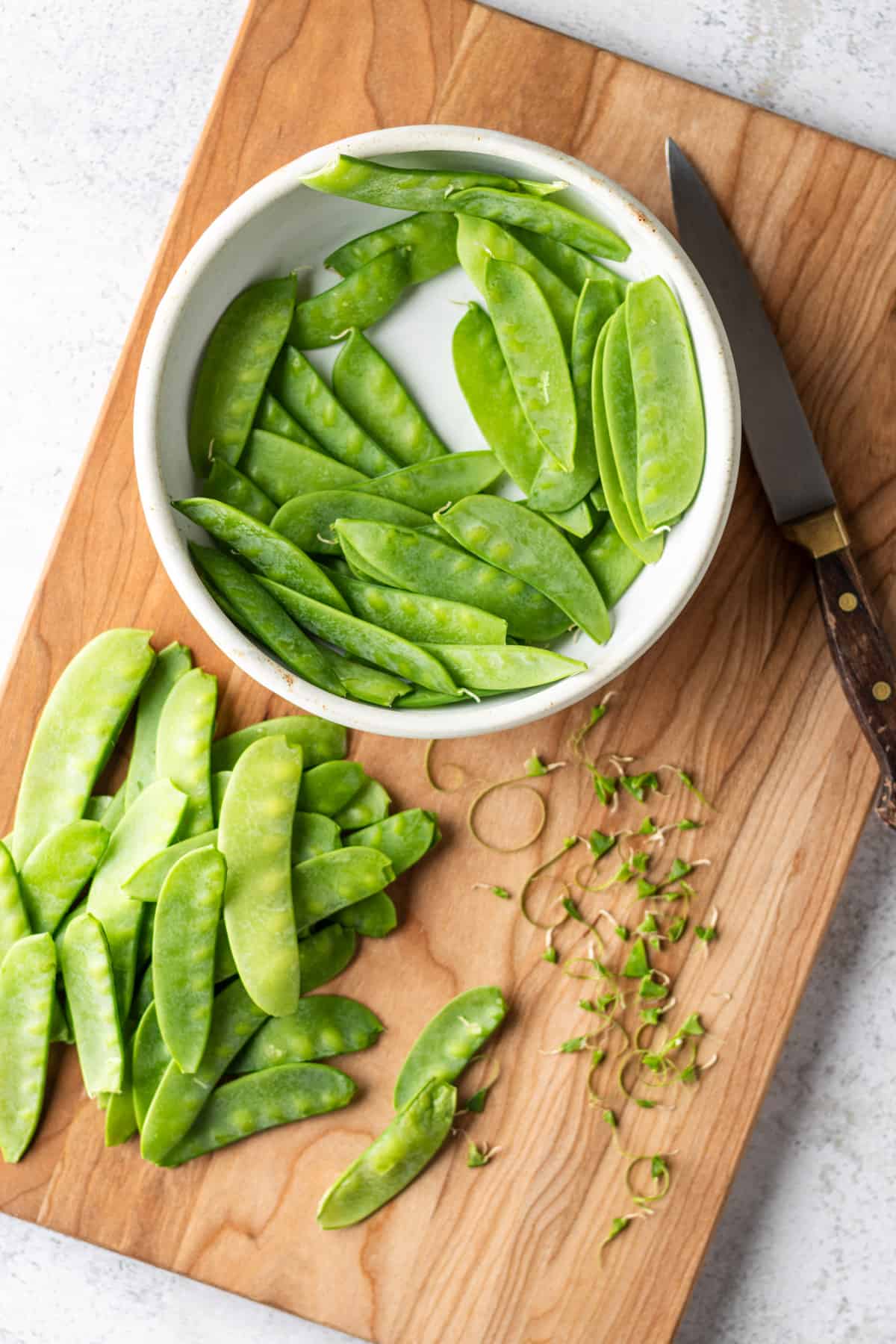 Trimming snow peas is optional but recommended due to the tough string running down the side. I recently started trimming my snow peas and I noticed a huge difference in texture when eating them. They are easier to eat when trimmed since they are not stringy and chewy.
To trim snow peas, use a knife to partially cut off the ends, keeping the inner, straighter side (next to the peas) barely attached. Peel the barely attached edge down the side of the pea to remove the string.  
Step by Step Instructions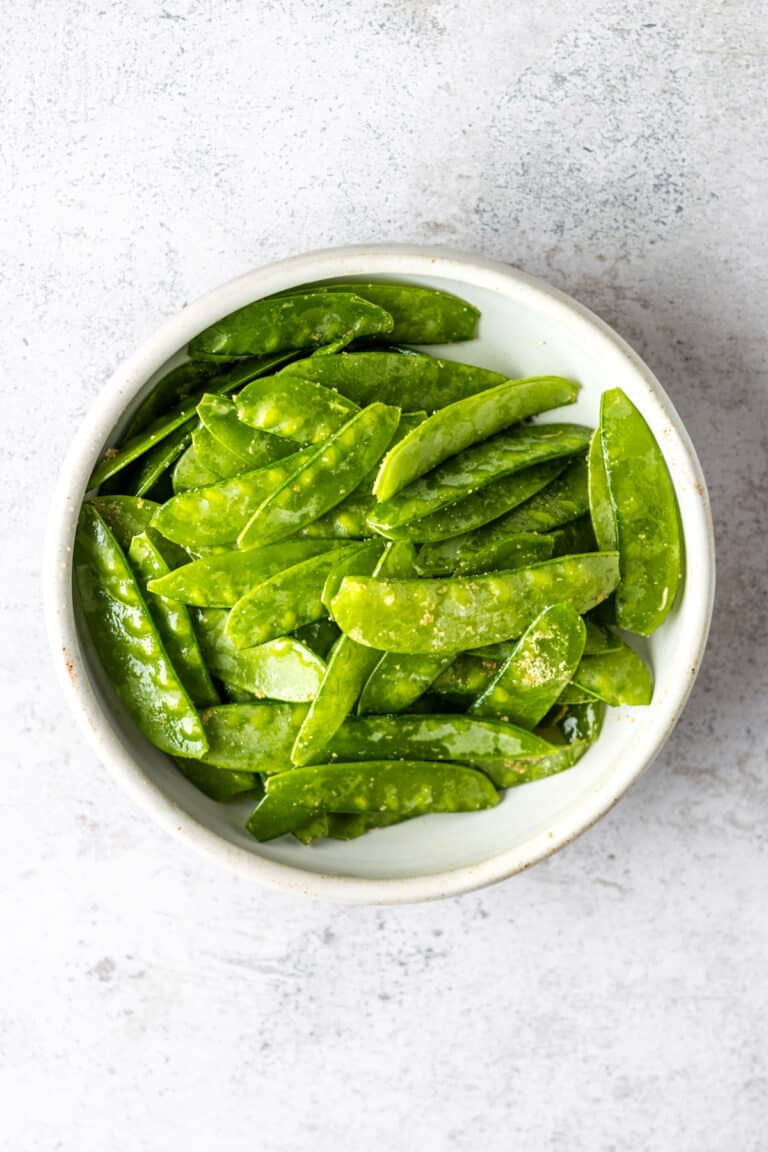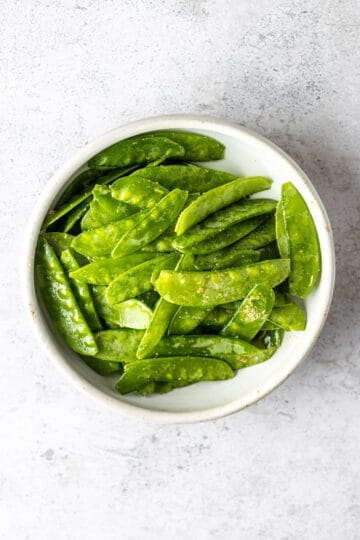 Trim the snow peas by cutting the ends and peeling away the inner string. Toss the pea pods in olive oil, garlic powder and salt.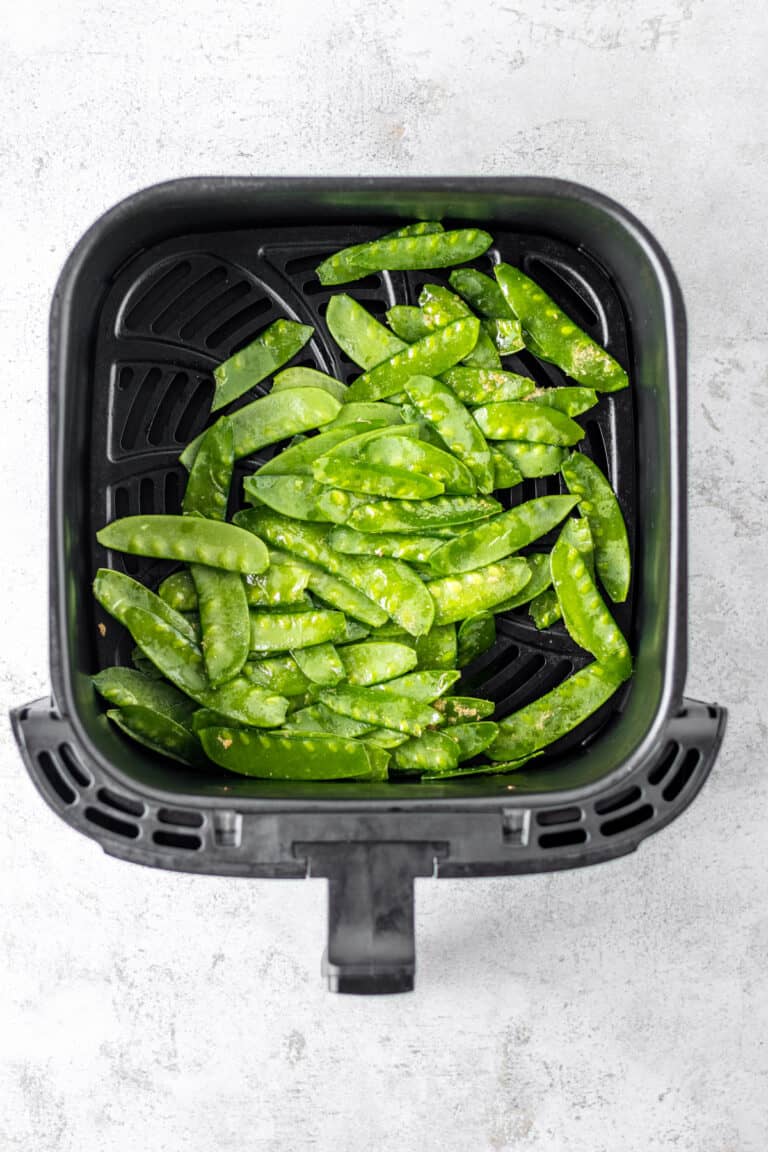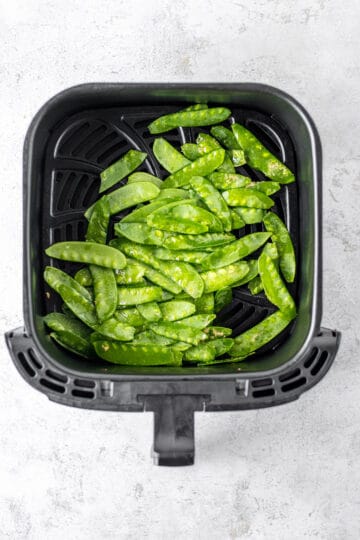 Preheat the air fryer to 400 degrees. Add the snow peas to the basket and cook for 5 minutes, shaking the basket once halfway though cooking.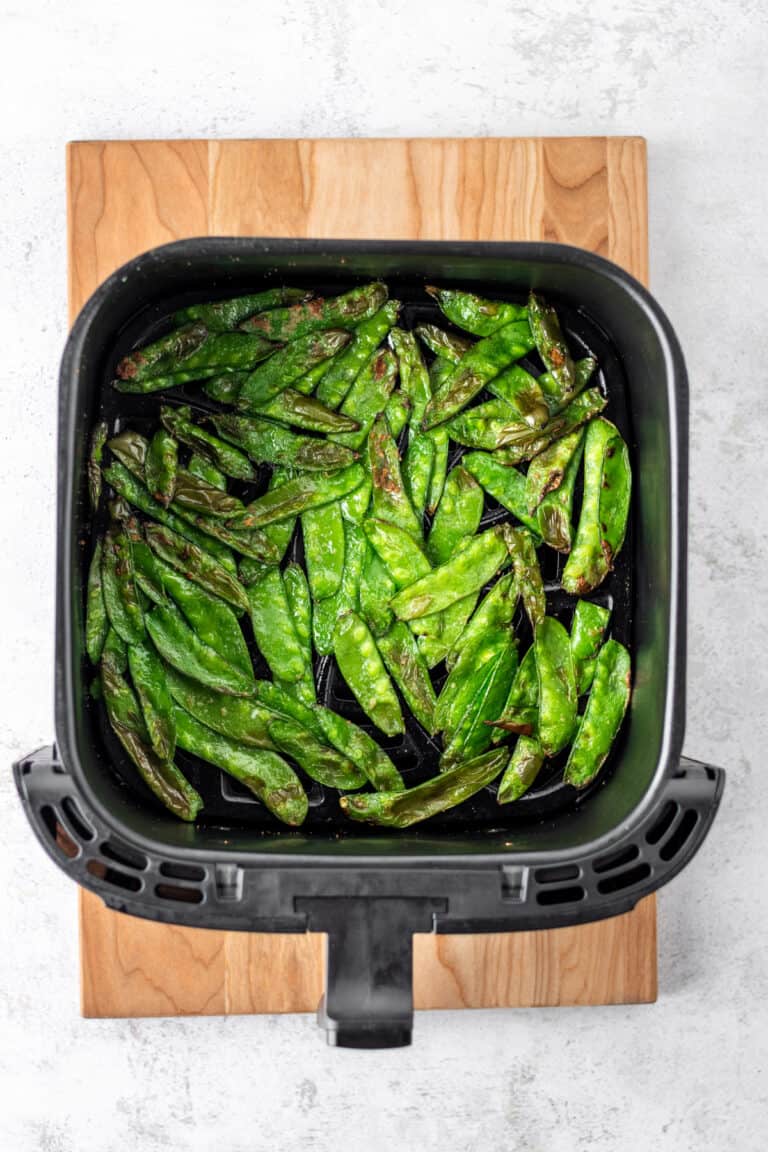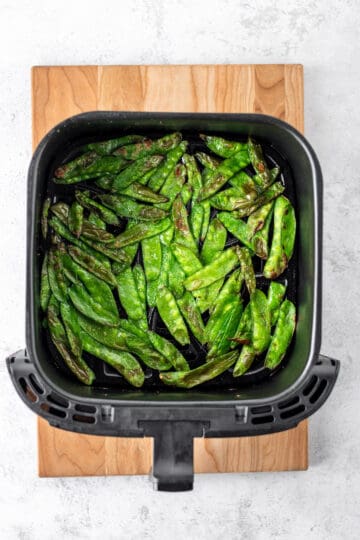 Remove the snow peas from the basket after 5 minutes.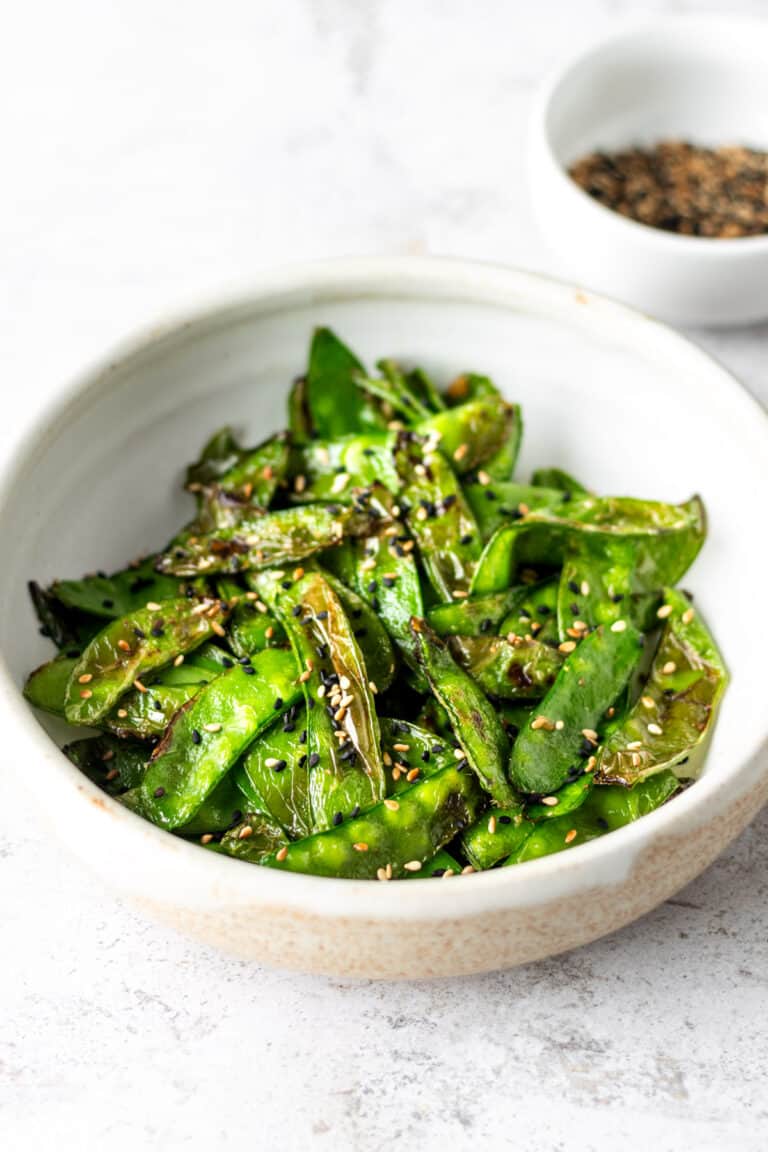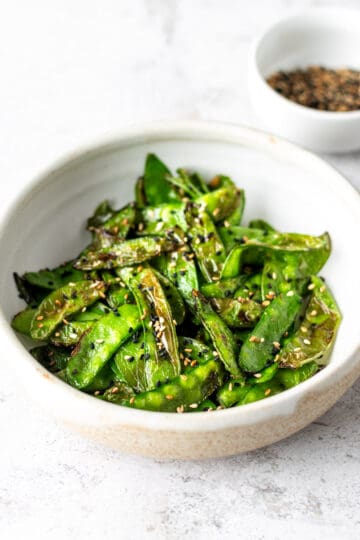 Sprinkle them with toasted sesame seeds and enjoy! 
Hint: use your favorite additional toppings to add variation to this dish.
Tips & Tricks
I recommend trimming the pea pods for a more enjoyable eating experience. This improves the texture tremendously (they are more tender) and it is much easier to eat!
Storing and Reheating
Store any leftovers in an airtight container in the fridge for up to 4 days. I recommend adding leftover air fried snow peas to salads such as this edamame quinoa salad!
To reheat snow peas, simply throw them back in the air fryer for up to 2 minutes. You can microwave them as well, or just eat them cold!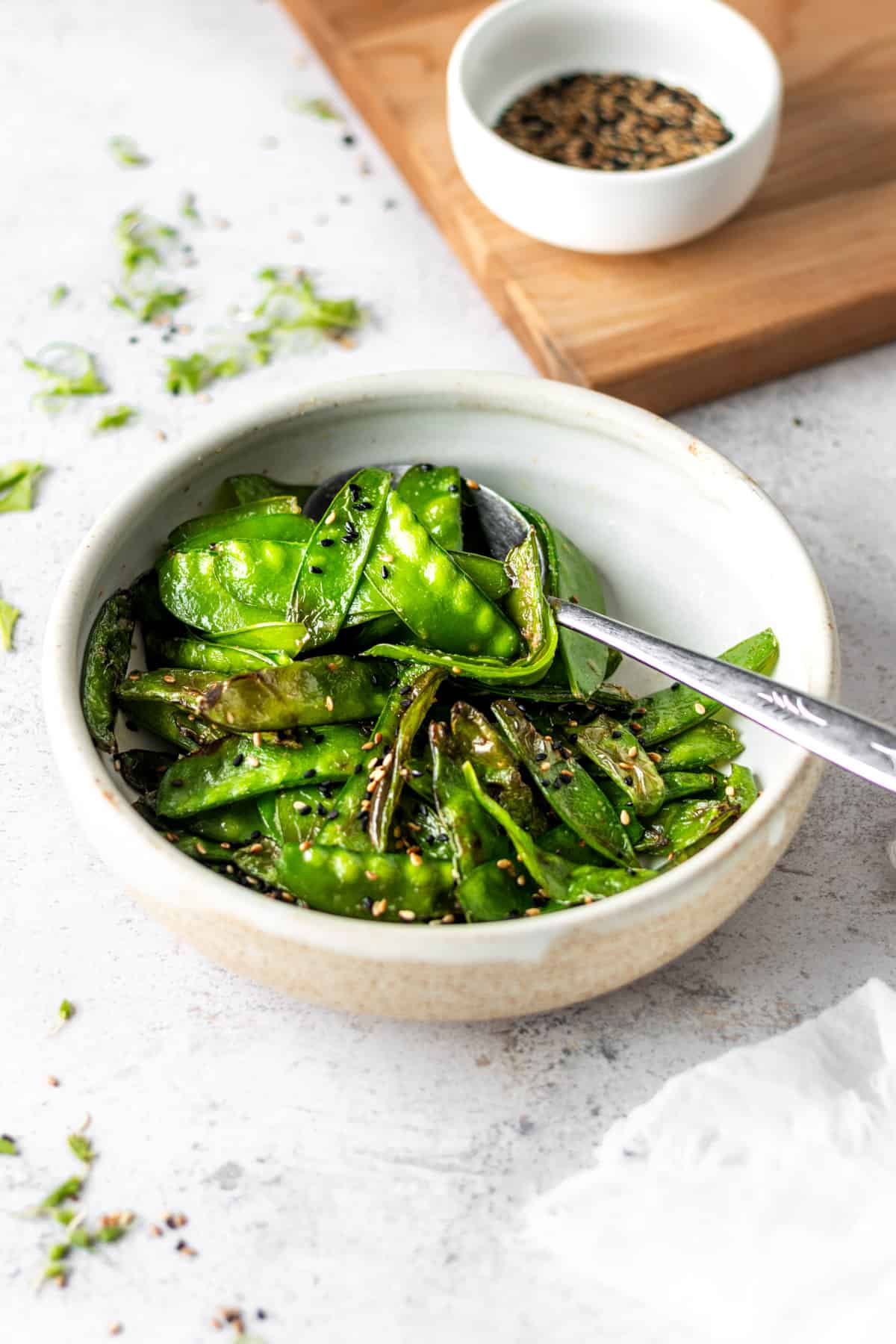 Frequently Asked Questions
Do I have to trim snow peas before eating?
No, while it is not necessary to trim snow peas before eating, it is recommended as it will improve the texture. The stringy sides of the snow peas are tough and chewy. They are completely edible but it is a better eating experience after they have been removed.
What is the difference between edamame and snow peas?
One of the big differences is the shell/outer part of the pea. For edamame, you only eat the inside peas, not the shell/pea pod. Snow peas have an edible shell so you eat the entire pea pod, rather than just the inner peas. Another difference is the variety of pea. Edamame is a soybean while snow peas are considered a sweet pea variety. 
How many calories are in snow peas?
This recipe for air fryer snow peas has 387 calories per serving.
More Easy Recipes You'll Love:
P.S. I love hearing from you! If you make this recipe please leave a star rating and comment below. To catch the latest recipes subscribe to my newsletter or follow along on Facebook, Instagram and Pinterest!
Print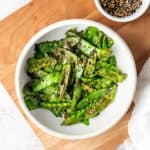 Air Fryer Snow Peas
Author:

Emily Toshiko

Prep Time:

5 minutes

Cook Time:

5 minutes

Total Time:

10 minutes

Yield:

4

servings

1

x

Category:

Sides

Method:

Air Fryer

Cuisine:

American

Diet:

Vegan
---
Description
Air fryer snow peas (or sugar snap peas) is a simple, easy to make side dish or snack that can be ready in under 10 minutes!
---
6

oz

snow peas (about 2 cups)

1 tsp

olive oil

¼ tsp

garlic powder
Pinch of salt

1 tbsp

toasted sesame seeds (optional)
---
Instructions
Trim the ends of the snow peas if desired. Cut off the ends and peel off the string located on the flat side of the pea pod. This step is optional but recommended. 
Toss the pea pods in olive oil, salt and garlic powder.
Preheat the air fryer to 400 degrees.
Add the snow peas and air fry them for 5 minutes, tossing once halfway through cooking after 2 ½ minutes. 
Remove the snow peas from the air fryer basket. Sprinkle the toasted sesame seeds on top before serving. Enjoy!
---
Notes
Substitute in sugar snap peas in place of snow peas if desired.
I recommend trimming the ends to remove the strings.
Add your favorite toppings such as lemon juice, parmesan cheese, or teriyaki sauce.
Keywords: air fryer snow peas